Your walk-in is texting you. Your fryer is demanding new oil. And your vent hoods are turning themselves on.
Welcome to the era of IoT in restaurants. "For years equipment manufacturers and designers have been predicting the arrival of the internet-of-things connected restaurant kitchen," Restaurant Hospitality reports, "one where appliances sync to the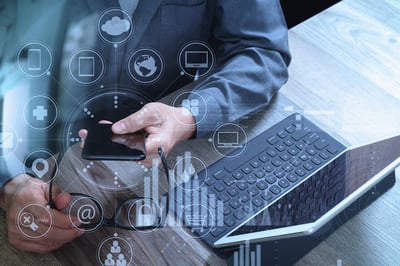 cloud, equipment is accessed remotely, the daily grind of temperature monitoring is fully automated, and ovens that are about to fail send warnings to management or message for replacement parts." But for restaurant operators, is the switch to IoT systems worth it?
Why invest in automated kitchen equipment?
The advantages of automated restaurant operations are clear:
Increased energy efficiency
Reduced noise
Improved operational efficiency
Precise temperature control
Less room for error
Greater longevity for kitchen equipment
The ability to monitor operations remotely
The ability to compare multiple locations' operations
The ultimate benefit is a consistently better guest experience. Fine dining destination Single Thread, a farm-to-table restaurant in Healdsburg, CA, is heralded for its eleven-course tasting menu customized to each guest's dietary preferences and restrictions. Behind the scenes, Single Thread's exemplary hospitality is made possible by its kitchen tech: energy-efficient vent hoods that only turn on when necessary (reducing noise), a Slack feed from servers to communicate guest requests, and programmable combi ovens.
But there are drawbacks, too. The big one is cost. To decide when and how to invest in IoT kitchen equipment, first determine your priorities. "When it comes to assessing long-term gains and challenges that such technological advancements can address, scalable solutions need to perform past tasks more simply and efficiently, provide greater insight or provide a combination of all," advises Jeff Kiesel, CEO of Restaurant Technologies, Inc. In other words, identify your biggest opportunity for improving profits and stemming losses, whether that's food waste, energy use or staff efficiency, and ask how the IoT might help.
Innovations in restaurant IoT systems
In restaurants, the Internet of Things involves four elements. Sensors on equipment measure things like temperature and energy usage. The sensors transmit data to a central gateway, which collects the data and sends it to a cloud-based platform. Managers and restaurant operators can then access the data via a mobile app or other interface.
What can you do with an automated system like this? Restaurant Technologies, Inc., uses it to simplify a greasy, dangerous task: fryer oil management. The company installs an automated system with dedicated tanks for fresh oil and waste oil. Managers see everything on an online dashboard: food-to-oil ratios, oil usage, filtration schedules, etc. An automatic cleaning system is available, too.
Another application is energy management. SiteSage, from Powerhouse Dynamics, is a system that allows multi-unit restaurant operators to remotely track and manage almost every restaurant system: HVAC, refrigerator and oven temperatures, water usage, even outdoor lights and signage. Arby's credits SiteSage with helping to achieve a 15 percent energy savings across its restaurants — more than $20 million, in total.
What about robots in the restaurant kitchen?
The next frontier in restaurant automation is robotics. But are we ready?
Here's a tale of two highly automated restaurants. Eatsa opened in 2015 as an automat-style restaurant in San Francisco. Human cooks worked behind a wall making customized quinoa bowls, which were then delivered in cubbies — no interaction required.
Spyce, which opened in May 2018 in Boston, delivers an entirely different experience. Customers order on tablets, then their bowl-style meal is made by a robotic assembly that consists of a row of rotating woks. Pre-chopped ingredients are poured into a wok, which uses induction heating to precisely cook each meal before tipping over to drop it into a bowl. Then, friendly humans expedite the final dish, adding garnishes and serving it.
Eatsa closed five of seven locations in 2017, citing overexpansion. Spyce, though still a novelty, has been getting rave reviews. Celebrity chef Daniel Boulud helped develop the menu of healthy, veggie-centered and multi-ethnic dishes, which cost just $7.50. The takeaways may be that flavor comes first; and that automation, for now, works best in the back of the house.
What technology do you see making its way into your kitchen? Let us know on Twitter at @HBC_Community or send us your ideas here.