Predicting the next big flavor trends has long been foodies' favorite sport. In 2019 it was celery juice and milk tea; in 2018, it was charcoal ice cream and artisan pickles. But then, well you know, 2020 happened.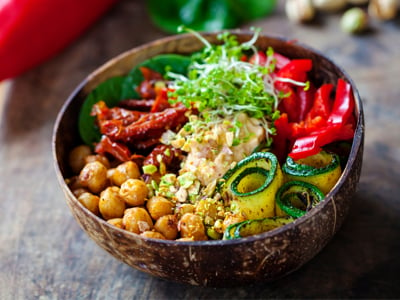 This year, restaurant operators may not be inclined to experiment with novel spice blends or exotic vegetables. But they still want to surprise and delight pandemic-weary customers, so it's worth paying attention to the trends. Here's a small taste of what we might be tasting in 2021.
2021 Food Trend Predictions from Grocery Stores and Food Suppliers
What people put in their shopping carts is often far different from what they order at restaurants. But grocery stores have an up-close view of changing tastes and preferences, and their insights can help operators learn what consumers are eating.
Whole Foods' Trends Council leads with health foods and eating for wellness: "That means superfoods, probiotics, broths and sauerkrauts. Suppliers are incorporating functional ingredients like vitamin C, mushrooms and adaptogens to foster a calm headspace and support the immune system. For obvious reasons, people want this pronto."
Another trend predicted by Whole Foods: alternative plant-derived oils. Sunflower seed oil, pumpkin seed oil and walnut oil are three that the store bets will be big with consumers. Chickpeas are another hot ingredient, appearing in snacks, in flour, in pasta and even in dessert (like frozen treats made with chickpea aquafaba).
Plant-based foods continue their surge in popularity. Grocery chain Kroger is adding more than 50 new products to its store line: cheese shreds and slices, oat milk ice cream, almond milk yogurt, creamy salad dressings, "chick'n" patties, even ready-to-eat chocolate truffle brownie batter.
Sugar alternatives and low-sugar foods are of high interest to consumers as well. "Sugar as the devil will become a more prominent message in 2021," says Clara Park, corporate chef of Culinary Innovation for Chelten House Products and a member of the Specialty Food Association (SFA) Trendspotter Panel. People want naturally derived sweeteners from sources such as monkfruit, coconut sugar and dates.
2021 Food and Beverage Predictions from Restaurants
Afternoon snacking is up, reports The NPD Group. "There was a shift toward a little bit of indulgence, a little bit of stress relief," David Portalatin, The NPD Group's national food and beverage analyst, told Nation's Restaurant News. Dunkin' reports a similar trend: customers show up later than they used to, and they spend more on specialty beverages.
Cocktails to go may prove a lasting trend. We recently examined how restaurants and bars are boosting revenues by selling drinks individually, batched, and in make-your-own kits.
It goes without saying that delivery, drive-thru and takeout will continue to grow in 2021. But what will people order? Right now, everyone needs some comfort food. Restaurants have seen success offering hearty, familiar meals, and that will no doubt continue into 2021. A DoorDash survey in July found 1,000%+ increases in gooey foods like queso blanco, create-your-own pizza, cheese nachos and cinnamon rolls. The top three items ordered across the United States were a chicken sandwich and fries; macaroni and cheese; and spicy shrimp tacos.
But comfort food doesn't have to mean cheesy or sweet. It could be simply home-style — like your mom's inari sushi (rice balls in deep-fried tofu pouches) or your grandmother's cemitas tortas, a puebla-style sandwich on a sesame-seed bun.
And these special twists might be what consumers want most in 2021. The percentage of consumers looking for "new/interesting/trendy foods and flavors" jumped from 21% to 37% between May and August in a Brizo FoodMetrics survey, suggesting some fatigue with the usual fare. The foods customers are most tired of eating? Pizza, sandwiches and burgers.
Ready to bring some exciting, on-trend dishes to your menu? Hamilton Beach Commercial is here with the affordable, durable restaurant equipment to make it happen, from the BigRig™ line of commercial immersion blenders to the PrimaVac™ line of vacuum packaging machines. Explore our complete line of foodservice and beverage solutions.