Shuttered casual dining restaurants have become a common sight in American suburbs, a casualty of pandemic cutbacks, overinvestment in the 2010s, and competition from the fast-casual segment. But this doesn't signify the end. The opposite is true: Casual dining is making a comeback.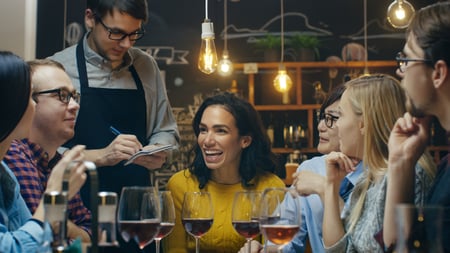 Casual dining brands are becoming more polished, more creative and more experience-focused. FSR Magazine calls it "NextGen Casual," a movement discussed in a recent webinar with three segment leaders. Black Bear Diner CEO Anita Adams sums up casual dining trends perfectly: "Now's the time to protect what you stand for and what you're known for," she says. Here's how.
Distinctive dining experiences
How can you make diners feel like their meal is special (off premises or on)? Yavonne Sarber, founder of Agave & Rye, explains in the NextGen Casual webinar that her brand is built on the "three pillars of epic… epic hospitality, epic food and drink, and epic atmosphere." This means creative, scratch-made tacos; "epic-size" cocktails made with freshly squeezed juices; and original artwork custom-made for each location. Guests "want to be transported into something that's not the norm," Sarber says.
It's crucial to make every location feel like a unique, local establishment. California-based Black Bear Diner is "largely a conversion-based brand," Adams explains, meaning that it takes over existing restaurant spaces so that hardly any locations look exactly the same.
Optimized menus
Casual dining was long known for big, multi-chapter menus. But they realized years ago that they couldn't be all things to all diners. Back in 2017, Chili's anticipated the trend by cutting its menu from 125 items to 75. Pandemic pressures caused many more restaurants, including Red Robin and Cracker Barrel, to do the same in 2020. Notably, IHOP shrank its menu from 12 pages to 2.
But is that sustainable? After Another Broken Egg Café shortened its menu during pandemic shutdowns, says CEO Paul Macaluso, "people were clamoring… for all the items we had, and to bring that back." They restored the longer menu, but continue to conduct menu optimization every few years to give customers more of what they want and more of what the brand is known for. For Another Broken Egg, that's indulgence: premium drinks, lobster benedict, pound cake French toast, and other treats diners won't make at home. Alcohol sales Monday through Thursday are up 40%, Macaluso reports.
Read more: Should Operators Shrink or Expand Offerings?
Accessible pricing
Increasing menu costs — caused by inflation and higher costs of doing business — have erased some of the divide between fast-casual and casual dining pricing. The average check at a fast casual, which was $7-$15 five years ago, has risen to $12-$18. That's close to the $20-$30 per-person check for casual dining.
The challenge for operators, then, is to figure out what kind of food and experience they can offer that diners are happy to pay a little extra for. At Agave & Rye, some diners are surprised to find that the tacos cost around $7 to $12.50, reflecting 15-25% price increases due to inflation. "What the heck!" they say. But when they take a bite, Sarber says, "they taste the value in what we're doing, because we take quality so seriously."
Streamlined kitchen operations
In Q3 2021, consulting firm Kinetic12 asked operators what their "Kitchen of the Future" would look like. Their answers reflected a universal desire to simplify:
91% said a simplified prep process to reduce labor and mistakes
56% said more multi-use equipment
56% said an advanced KDS/order-management system
52% said a more compact, efficient kitchen
41% said a station-oriented layout with fewer labor specialists
Hamilton Beach Commercial is here to help. Every piece of commercial kitchen equipment we make is designed to be intuitive, compact and multi-functional. Take the BigRigTM family of commercial immersion blenders, which features the most powerful motor in its class, a variable speed dial and an ergonomic handle for all-day use. Or the PrimaVac™ commercial vacuum sealer, which earns a place in any kitchen by efficiently storing, preserving, portioning and seasoning food.
Read more: 8 Tips for Optimizing Space in a Restaurant Kitchen
Discover Hamilton Beach Commercial's full line of durable, affordable restaurant equipment.