QSRs were built on consistency. Now, people crave novelty.
Limited-time offerings can give sales a short-term boost, earn media mentions, build social buzz and even entice lapsed customers to return. Nearly half of all consumers try LTO menu items every month, QSR magazine reports.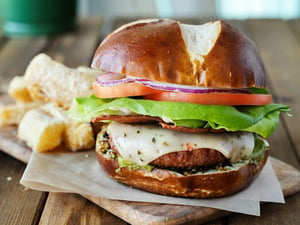 It makes sense. Not only are people programmed to crave novelty (new flavors, new dishes), but they respond strongly to scarcity, perceiving scarce items as more valuable and conferring status on those who possess them. But how can you ensure an LTO is a success? First, consider these five factors.
1. Longevity
The traditional approach is to make LTOs available for a few weeks or even months during a particular holiday season: think the ever-popular Shamrock Shake at McDonald's or the so-basic-it's-cool Pumpkin Spice Latte at Starbucks. But a new trend is the "extreme LTO," an offering that's available for only a few days (or a single day, in the case of Arby's marinated venison sandwich).
When a particular offering performs well, chains are tempted to hang on tightly and keep it on the menu. But this strategy can backfire, restaurant marketer Charlie Hopper told Nation's Restaurant News: "If brands come to depend on a fad and can't give up the X percent of traffic it brings in, they can't get rid of it even if it's tired after a couple years. Then you have supply issues, because you're throwing out brioche buns or whatever." The upshot: Only make an LTO permanent if there's a sustained, enthusiastic demand.
2. Expansion Potential
There are two types of LTOs. One is a creative variation on something that's already on the menu; the other is something entirely different. The second kind of LTO can be more challenging to develop, but presents a valuable opportunity to test a new product line. When Checkers Drive-In saw a positive response to potato skins made with the chain's "Famous Fry" batter, the company tried the same approach with battered Monsterella Stix.
3. Consumer Fatigue
There's a concept in psychology called the hedonic treadmill: it means that people re-adjust to a set level of happiness, regardless of the ups and downs in their lives. In other words, the thrill of winning the lottery — or, on a micro level, sampling a delicious new food — soon wears off, and the person's new emotional state becomes the norm.
We've seen this happen with Starbucks' kitschy lattes. The pastel-colored, super-sweet Unicorn Frappuccino was a huge hit in April 2017, but its successors — the Zombie, Christmas Tree, and color-changing Crystal Ball frapps — saw fewer sales and less attention. Starbucks announced in 2018 that it would reduce its limited-time offerings by 30 percent.
4. Visual Appeal
Not every LTO has to be photo-ready (Cheesy fries, for instance, will never be Insta-glam no matter how many filters you use.) But if your aim is to get people talking and have customers do your marketing for you, presentation should be a priority.
"Always do something that is a little bit different, whether it's a serving vessel, a garnish or an unexpected ingredient. Do something that sets you apart," celebrity chef and menu consultant Kathy Casey tells Hamilton Beach Commercial. "For instance, using a tiny wooden clothespin to secure a cocktail garnish; that extra little touch makes it memorable. When it comes to food, a combination of textures, unexpected flavors, and a unique presentation can make it a photo-worthy snap."
5. Ease of Execution
The Unicorn Frappuccino, in its short life, was despised by many baristas who found themselves sticky with syrup and dusted with pink and blue powders. Some locations ran out of ingredients; some customers noted that their drinks didn't look as pretty as in the ads.
Limited-time offerings should be made consistently and well. That means making sure all staff are trained well in advance, on the platforms they're most comfortable with: mobile and video, not posters and three-ring binders. It also means operators should consider the difficulty of making a particular LTO before it's introduced. Texas fast-casual chain Mooyah Burgers, Fries & Shakes offers an LTO campaign called "Taste to Try," which is simply a burger made with a novel combination of ingredients that are always available. No extra training is required, and if something takes off (like the tongue-burning Double Diablo), it's a cinch to add to the menu.
Has your company seen a positive response to limited-time-offerings? Tell us your success story and we may feature you in this space.