Celebrity chef Kathy Casey's favorite word is "wow." She applies it to everything she does: cocktail creation, menu consulting, restaurant development, TV hosting and cookbook writing. She's the owner of Kathy Casey Food Studios - Liquid Kitchen, a global food, beverage, and concept development and innovation agency.
In an increasingly competitive marketplace, how can restaurant and bar operators serve up that wow factor? "Always do something that is a little bit different, whether it's a serving vessel, a garnish or an unexpected ingredient. Do something that sets you apart," Casey says. "For instance, using a tiny wooden clothespin to secure a cocktail garnish; that extra little touch makes it memorable. When it comes to food, a combination of textures, unexpected flavors, and a unique presentation can make it a photo-worthy snap."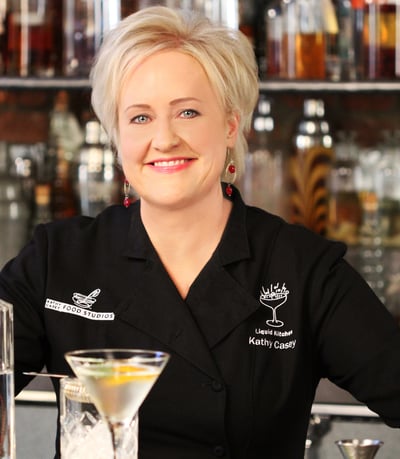 Kathy Casey. Photo credit: Kathy Casey Food Studios.
"Speedscratch": The key to profitable cocktail programs
Clients including Fairmont Hotels & Resorts, Norwegian Cruise Line, Landry's Inc., Marriott International, California Pizza Kitchen, Beam Suntory and Bacardi have sought Casey's drink development expertise. When she begins working with a new client, she doesn't head straight to the bar — she wants to understand the entire concept. Casey examines the sales mix, products, even glassware and plateware. She studies the food, the beverage, and the customers, all to answer the question of: how can we raise the overall beverage experience?
A frequent challenge Casey sees is executability. When updating cocktail menus, "sometimes people get overly ambitious," she observes. "Then their bar teams are not able to execute the cocktails consistently." Reduce the complexity and increase consistency, she advises, with a "speedscratch" approach. Create a drink that's amazing and easy to execute, because four ingredients can taste just as good as the one with 11. "When we do a bar program flip," she says, "we freshen up the ingredients and focus on drink flavor balance and speed of service." A thoughtful, simplicity-focused refresh of a cocktail program often raises beverage sales by 20 percent, Casey says.
Crafting non-alcoholic beverages that shine
"A lot of times, non-alcoholic beverages get put to the wayside, but it really is a huge opportunity for sales," Casey says. Any restaurant or bar should invest the time in creating one or two outstanding non-alcoholic drinks: a signature iced tea, or a refreshing cooler like a hibiscus blueberry lemon sparkle. It doesn't have to be complicated. At Casey's airport Food T' Go Go concept Dish D'Lish, the cucumber lemonade is made with fresh lemonade, Monin's all-natural Cucumber Concentrated Flavor and freshly sliced cucumbers. "Delicious, right?" Casey says.
Presentation matters. Non-alcoholic cocktails should be exciting, she says, and one way to do that is with the Revolution® Ice Shaver/Blender HBS1400 from Hamilton Beach Commercial.
"Shaved ice really makes a wow presentation," Casey says. "It's easy, too, because you just remove the blender cup from the unit and hold your glass right underneath to mound it up with ice, creating a beautiful presentation when layered with different juices, purees and elixirs." She often uses a julep strainer to pack the shaved ice into a curved dome shape.
Standing out in a crowded restaurant space
Think the overall foodservice business is fiercely competitive? Try operating in an airport, where overhead's high, logistics are tangled and staffing is doubly difficult. Yet that's exactly where Casey has found a niche: at Sea-Tac International Airport, where she partnered with HMSHost to open Dish D'Lish Food T' Go Go at in 2005. The concept rapidly became a favorite destination for its fresh and healthy inspired dishes like the Northwest Salad with roasted local pears, toasted hazelnuts, and dried cranberries. Dish D'Lish has done so well, in fact, that in early 2018, Casey is opening Rel'Lish Burger Lounge with HMSHost, which will offer gourmet burgers, fun appetizers, hearty salads and "an awesome bar," Casey says.
Recognizing airport dining as a big opportunity, Casey recently partnered with 1915 KCHouse Concepts, a women-owned airport operations company. Their first location will be Lucky Louie Fish Shack, a fast-casual seafood spot in Sea-Tac's central terminal that is opening in late 2018-early 2019.
Her advice for restaurant operators: "You have to be fresh. You can't sit and wait for a trend." In other words, don't roll out a sriracha burger five years after everyone else. Instead, develop menu items that are unique, creatively presented and Instagrammable. "It has to have a wow factor too," she says. For example, Rel'Lish's Over The Top Cheeseburger is set apart by its house-made cheddar ale spread, Tillamook pepper jack cheese, and hot Cheetos. "It's a textural and flavor explosion in your mouth," Casey says. Another menu item with that fun factor: the Cheeseburger Soup, served with french fries and a pickle on top.
Also, it's crucial to understand your audience. Travelers are interesting customers, Casey observes: half want comfort food, reasoning that "it doesn't count because I'm traveling," while the other half want really healthy food to keep them on track. "I think my brands are hitting all those things."
For more information on Kathy Casey's consulting work, visit: www.kathycasey.com or http://www.liquidkitchen.com.
Tell us how you use Hamilton Beach Commercial products like the Revolution Ice Shaver/Blender — we'd love to interview you for a future post.