At the Thai street food restaurant Soothr, in New York City's East Village, all the weirdness of dining in the age of COVID-19 is on display. Guests have to show proof of vaccination to a host at the window. They're notified when they walk in that there's a strict 90-minute time limit per table, which begins from the time of reservation. The limit is enforced a little too enthusiastically, Jiayang Fan writes in her review: "On a recent evening, a waiter tried to remove a half-finished cocktail from a table no fewer than three times in five minutes."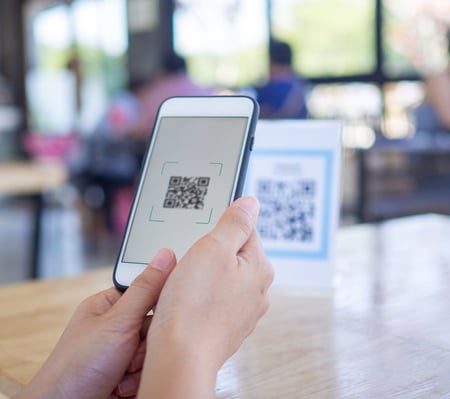 Diners and restaurant operators want to know: Is this the new normal? In one year — or five — which COVID-19 dining conventions will still be in place? We'll share our predictions.
QR Code Menus
That little checkerboard card on the table has become a common sight. Since the pandemic, half of all full-service restaurant operators in the U.S. have begun using QR code menus, according to the National Restaurant Association.
QR code menus have some pretty big benefits for operators. One, they save staff time. Two, they can significantly reduce labor costs, if customers use them to order and pay. Three, they're easy to update as menu items and prices change. And four, they open up a new marketing frontier by allowing operators to track customers' orders, save their personal information and customize special offers.
But there are big downsides from a diner's perspective. As Slate writer Christina Cauterucci points out, QR menus exclude less tech-savvy diners and those without smartphones: "There is no good reason to add an exclusionary, risky, socially deadening digital step to an analog system that was working just fine before the pandemic hit." To make the call, talk to your customers and keep paper menus available on request.
Table Time Limits
Telling diners they have a set window to eat (typically 90 minutes) has become a necessity for many restaurants. As operators try to make up for lost revenue, keep reservation books full, and give diners enough space to feel comfortable, they've found they must turn over tables more quickly.
This can be a tough sell. Diners agree with limitations, in theory. One recent survey by OpenTable found that 44 percent of respondents said it was extremely important for restaurants to limit the number of people they seat, so diners could feel comfortable eating out again. Nevertheless, no one wants to get booted from their table before dessert.
The solution: Get guests on your side. First, make it clear to them why you're imposing table time limits. Remind them multiple times (when a reservation is made and when they arrive) that this is the policy. Some restaurants encourage diners to order ahead of arrival, OpenTable notes, while others send them home happy with a to-go dessert or drink.
To-Go Cocktails
Ordering cocktails to go was prohibited by law in most places in the U.S…. until COVID-19. Many state and local governments relaxed the rules to help struggling restaurants and bars find another source of revenue. As of mid-2021, 39 states and Washington D.C. allowed the sale of to-go cocktails. At least 15 of those states (and D.C.) have made the change permanent, and more are considering it.
For now, it's looking like cocktails will remain on delivery and takeout menus. Get tips on pricing, presentation and packaging to-go cocktails from Hamilton Beach Commercial.
Outdoor Dining
Restaurants lucky enough to have a patio, porch or sidewalk space saw demand boom during the pandemic. In an OpenTable survey from early 2021, 83% of diners said they wanted restaurants to keep increasing outdoor seating. The result may be a permanent shift in the dining landscape.
In cities large and small, restaurants successfully turned street parking spaces into dining parklets, with or without constructing enclosures. While some people complained about noise, pests and the loss of parking, the change has proved popular. New York City Mayor Bill de Blasio said that giving up 8,550 parking spots helped save 100,000 restaurant jobs.
Many cities are now adopting laws that permanently allow outdoor dining. If that's the case in your locality, consider investing in an outdoor enclosure to shelter guests from the elements.
Off-Premises Dining
This is the big one — the seismic change that shook the restaurant industry in 2020 and 2021. In the US., digital orders (for both takeout and delivery) increased 124 percent year-over-year for the year ending March 2021, according to The NPD Group. Industry experts predict that demand will continue to increase. Virtual brands and ghost kitchens are also forecasted to have some longevity.
There are some obstacles, however. The main one is the cost — specifically, the expenses related to third-party delivery services. "Realistically, restaurants' traditional profit margins of 7 to 22 percent make covering the platforms' delivery commissions, roughly 15 to 30 percent, unsustainable as delivery orders become a larger part of a restaurant's business," a McKinsey & Company report says. The delivery platforms themselves aren't yet profitable, delivery will become more expensive over time, and customers must be OK with paying a 40% premium (on average) for fees and tips.
Another, perhaps more profitable avenue for restaurant operators is amping up takeout and drive-thru service, with mobile ordering and multiple lanes for different types of orders.
As you gear up for 2022, know that Hamilton Beach Commercial is here to support you! Our durable, affordable commercial kitchen equipment is built to keep up with your business as it grows.