The global craft-cocktail movement was reaching ever-loftier heights, with more and more creative, fanciful and expensive concoctions — and then, suddenly, the bars went dark.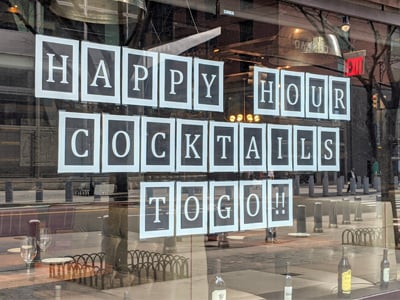 From Los Angeles to New York and beyond, restaurant and bar operators have turned to takeout cocktails to bring in much-needed revenue. And it seems to be working! But before you start batching drinks by the barrel, you need a plan.
Laws and Regulations for Takeout Cocktails
In most of the United States, laws have long prohibited or restricted the sale of off-premises cocktails. Those laws changed rapidly with the advent of the pandemic. As of September, at least 33 states and Washington, D.C. permit restaurants and bars to sell cocktails to go.
Some are optimistic that these changes will become permanent. "What the COVID crisis has done has allowed the marketplace, and regulators, to look at age-old blue laws that have been in place for years," Chris Swonger, president and CEO of the Distilled Spirits Council of the United States, tells Imbibe. "It presents an opportunity for the long term to reset the marketplace for the better."
The laws haven't gone away entirely, however. It's crucial for restaurants to ensure they're following local regulations, which may include:
Serving cocktails only with food orders
Sealing the container
Checking customer IDs
Transporting alcoholic drinks in a vehicle's trunk
Prohibiting third-party services from delivering cocktails
Pricing To-Go Cocktails
While takeout cocktails have been the savior of many bars' bottom lines, they generally don't deliver the same profit margins as high-end cocktails consumed on the premises. The upside is that labor time and costs can be dramatically reduced by batch-making cocktails. The best drinks for large-volume batching are those made entirely from spirits — such as martinis, Manhattans, and Negronis.
For guidance on pricing, listen to Jeff Bell, managing partner at PDT in New York City: "At the bar, we charge $17 for drinks normally, but those are from a hyper-seasonal, 18-drink list, everything made to order, with cocktails served on Okamoto Ice in crystal glassware… So now I charge $12. Financially it's making sense simply because it's bringing in money and it's getting bills paid. For me this is an exercise in adapting our business model to what is safe, legally possible, and a good representation of our brand."
Cocktail kits add a bigger boost to tickets as well as a special-occasion feeling. Barcito in Los Angeles offers not only bottled pre-made cocktails, but thoughtfully assembled bar kits for at-home mixologists. The "Light and Bright" kit ($99) — which does not include the base liquor — provides the ingredients for 100+ light-spirited cocktails at home ("think Last Words and Aviations"): maraschino liqueur, simple syrup, yellow and green chartreuse, violet liqueur, Cointreau, orange bitters and Luxardo cherries.
Packaging and Presentation for To-Go Cocktails
Half the pleasure of sipping a craft cocktail comes from the ambiance of your surroundings. Now that atmosphere is a scarce commodity, the packaging and presentation have to make up the difference.
Mason jars are the classic container, sealing securely while bringing a homemade vibe. They lend themselves well to cocktails containing fresh herbs and fruits, like the appealing Limonana (vodka-lemonade with minced Mediterranean spearmint) at Boston's Simcha.
Coffee cups lend a kitschy vibe to the to-go cocktails at Seattle's Dreamland Bar & Diner. Not just any coffee cups, though; Dreamland's tiger's blood margaritas and passionfruit whiskey sours are served in New York-style "It's Our Pleasure to Serve You" cups.
Medicine bottles of cocktails will cure what ails you at Tiger Fork, a Washington, D.C. spot known for Hong Kong street food. The Bird Market contains "Gin, Alpine Liquor, Citrus, Stuff That's Good For You."
Zip-top pouches (think of an adult version of those famous juice pouches) are portable, sturdy containers for takeout cocktails, both individual and batched. Philadelphia's Bud & Marilyn's takes a playful approach, with irreverent messages on its pouch cocktails.
Vacuum-sealed pouches are cost-effective and also visually appealing when cocktails are packaged with gorgeous garnishes. Trophy Fish in St. Petersburg, Florida vacuum-seals its boat-y "Curbside Cocktails" — Salty Dogs, Fin and Tonics, and Calm Before the Storms — with ingredients such as rosemary, peppercorns, edible flowers and candied blood orange slices. Vacuum-sealed cocktails also can be frozen for later enjoyment.
Don't have a vacuum sealer? Now's the time to invest in one. The affordable PrimaVac™ line of vacuum packaging machines from Hamilton Beach Commercial helps restaurants decrease food waste, manage fluctuating demand and streamline kitchen operations. Learn how!