For decades, veganism was described in the language of deprivation: no meat, no fish, no dairy, no eggs, no fun.
"When I first began eating vegan…23 years ago…I was sad because I was hungry. I wanted to eat food — a lot of it," chef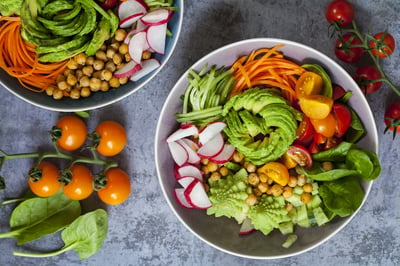 Doron Petersan told Nation's Restaurant News. Now, Petersan and other chefs are developing plant-based menus to satisfy big appetites and adventurous eaters. "We're not specializing in delicate microgreens; we're not touting ourselves as a health food diner," says Petersan, founder of Washington D.C.'s Fare Well. "There's cookie dough pancakes with a side of tofu scramble. It's still indulgent and still fun."
While just 3 percent of Americans consider themselves vegans, nearly 40 percent are "actively trying to incorporate more plant-based foods into their diets," according to Nielsen. And they're hungry! It's time to give the people what they want.
Savory Meatless Meat
The biggest thing to hit the world of meat substitutes is the Impossible Burger. It's made from wheat and potato proteins, coconut oil, soy and an iron-containing molecule called heme — the same molecule that creates "the explosion of flavor and aroma when you throw a burger on a grill," explains Pat Brown, founder and CEO of Impossible Foods.
In 2018, iconic burger chain White Castle added the Impossible Sliders to its menu, receiving rave reviews. "It's one of the country's best fast-food burgers, period," Eater declared. Impossible "meat" can go high-end, too; Umami Burger's $16 Impossible Burger is one of the most popular items on the menu.
Flavorful Egg and Fish Alternatives
Globally, the meat substitute market is expected to register a compound annual growth rate of 7.5 percent by 2022, with a total value of USD $5.81 billion. Beef isn't the only protein being pushed aside by plant-based alternatives.
"When you talk about protein, one of the things people really like is eggs, and it's been one of the holy grails in the plant-based world," said Steve Heeley, CEO of California chain Veggie Grill. A new solution is Just Egg, a vegan substitute that's made from mung beans and scrambles just like a real egg. Veggie Grill's Just Egg burrito was launched as an LTO and rapidly became a popular permanent menu item.
Another big trend: vegan sushi and poke bowls. Here's a genius vegan substitute for raw tuna: watermelon compressed in a commercial vacuum chamber sealer, such as the PrimaVac™ line from Hamilton Beach Commercial, and infused with savory ingredients, such as nuoc cham and soy. The process makes it firm, like fish, and beautifully translucent.
Satisfying Vegan Soul Food
"I love smoky flavors, and when I went vegan, I still wanted to eat all the foods that I enjoyed," Jeff Ridabock, owner of Homegrown Smoker, told Thrillist. "As I got into this over the years, I realized I could apply all traditional-type barbecue methods to vegan foods." His Portland, Oregon restaurant serves vegan barbecue with all the flavor fireworks of traditional soul food: sweet and smoky tempeh ribs; zesty Mac-No-Cheese; crispy fried "fish"; grilled and sauced soy curls.
Portland, while known for its creative plant-based cuisine, isn't the only place to find vegan soul food. The concept has proved popular in Nashville (try The Southern V's version of Hot Chick'n), New York City (Seasoned Vegan) and Detroit (Detroit Vegan Soul).
Decadent Vegan Desserts
Chef Petersan, of Fare Well and Sticky Fingers Sweets & Eats, offers some priceless advice to restaurant operators that want to add plant-based menu items: "Cater to your core group, but make it good enough that people outside of that group will like it. That's why we started with baked goods and not burgers. A cookie is a cookie. If it looks good, you'll eat it. If it tastes delicious, you'll eat it again."
Almost any dessert can be made vegan, but some are guaranteed crowd pleasers. These include vegan donuts (like those made by LA's Donut Friend), vegan cupcakes (like Erin McKenna's Bakery in NYC, where everything is also gluten-free and kosher), and vegan cinnamon rolls (see the success of Cinnaholic, which was featured on "Shark Tank.")
Have you developed a unique plant-based menu? Tell us about it! We're always looking for foodservice innovators to feature in this space.