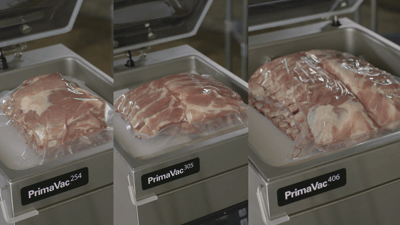 If you've ever used a chamber vacuum sealer, you know the process is dramatic. Place a plastic pouch containing food — a nice filet, we'll say — inside the chamber. Start the cycle and air is removed from the chamber. At the end of the cycle, when air re-enters the chamber, the sealed pouch shrinks around the filet. The result: it stays fresh and looks good for longer.
But what happens when a chef seals delicate, fragile or sharp-edged foods? Will they be crushed, or puncture the pouch? Not if you have adjustable Soft Air.
What is Soft Air?
The Soft Air feature on the PrimaVac™ Chamber Sealer allows a user to control the rate at which air re-enters the vacuum chamber after the pouch is sealed. Instead of air rushing in all at once, which causes the pouch to rapidly collapse around the food, Soft Air gradually introduces air over 2 to 10 seconds.
The pouch gently settles around the food being packaged, avoiding rapid compression and possible tears in the plastic. The result is a neat package that retains its integrity and appearance.
Soft Air is invaluable for vacuum-sealing foods such as:
Lobster tails
Kebabs
T-bone steaks (or any bone-in steak)
Rack of lamb
Ribs
Pastries
When we designed the PrimaVac™ line of commercial vacuum sealers, we chose to include high-end features, like Soft Air, while keeping the price well below comparable European products. Soft Air comes standard on all three PrimaVac™ models, which are engineered to meet Hamilton Beach Commercial's superior standards for durability and performance.
Soft Air vs. Gas Flush
Another special feature that comes standard on our largest model, the PrimaVac™ 406, is Gas Flush. Gas Flush inserts inert gas, such as nitrogen, into the pouch before it's sealed. The presence of the gas both cushions delicate ingredients (such as baby greens or fresh fruit) and inhibits spoilage.
These two features, Soft Air and Gas Flush, are often confused. Here's a quick comparison:
| | |
| --- | --- |
| Soft Air | Gas Flush |
| Slows the pace of air return around the pouch | Adds gas inside the pouch |
| Protects sharp-edged foods from puncturing the pouch and delicate foods from being crushed by the vacuum formed | Protects foods that are delicate or prone to spoilage by replacing the air inside the pouch with gas |
| Does not affect the rate of spoilage | Can inhibit spoilage, depending on the gas used |
| Standard on all PrimaVac™ models | Standard on the PrimaVac™ 406 only |
For even more control over the sealing process, the PrimaVac™ Dynamic Display shows how much air has been extracted from the chamber, allowing the operator to stop the vacuum pump mid-cycle when a partial vacuum is required.
All PrimaVac™ models feature a powerful, durable JetAire™ pump, 10 custom programs and an available three-year warranty. Learn more about the PrimaVac™ commercial vacuum sealer line.