Diners want better, healthier, cleaner food — faster. They want it this second, actually.
That's why delivery-focused restaurants are taking off. Look at Chicago's Eat Purely, which promises chef-made organic meals delivered in 20 minutes. Sales have doubled each month since Eat Purely opened in March 2016. Millennials especially love when people bring them food; about 20 percent of the restaurant meals they eat are delivered.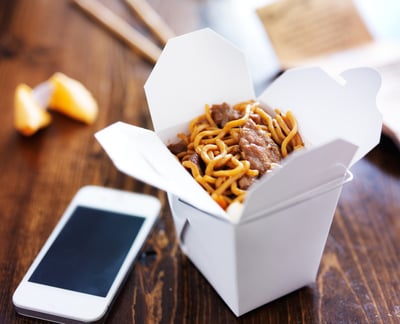 The rise in delivery demand promises good things for restaurants: higher order volume, increased sales during off-peak hours, and lower front-of-house costs. It also presents some problems, including quality control challenges and high commissions for delivery partners. We take a closer look at the future of restaurant delivery.
Delivery-only restaurants
David Chang, the New York chef whose empire began with Momofuku Noodle Bar, is widely considered one of the most forward-thinking entrepreneurs in the restaurant business. Chang's latest experiment is Ando, a delivery-only restaurant. Ando recently began operating in parts of Manhattan, delivering low-priced classics like rice and beans, dan dan noodles and cheesesteaks. Order through the Ando app, and the food is transported via Uber Rush. Other entrepreneurs are trying similar approaches.
The rise in delivery-only restaurants isn't driven only by consumer demand for convenience. "With rising labor costs, [Chang] sees delivery as a way to spend less on front-of-house costs, reduce lines, and feed more people," explains Eater New York. And a single kitchen can run multiple virtual restaurants.
Predictive ordering
Your frontline staff already know that five women from a nearby office come in every Wednesday to order Greek salads and smoothies. What if your ordering system knew, too — and could deliver it to them automatically? Predictive ordering technology tracks customers' preferences and order history in order to anticipate their desires in advance.
The technology is still in its infancy, however. Domino's has introduced automatic ordering, which allows customers to set up a standard order and then have it delivered by texting a pizza-slice emoji, sending a tweet, or simply opening the Zero Click app on their phone. But automatic isn't the same thing as predictive. A 2016 survey by the National Restaurant Association found that 53 percent of restaurant owners would like to implement predictive ordering; another 16 percent want to try drone delivery.
Drone delivery
In September 2016, Chipotle began testing drone delivery of burritos in a special experiment at the Virginia Tech Transportation Institute. Students and staff could order from an on-campus kiosk, then watch as the drone carried their food from a Chipotle truck nearby and lowered it to the ground in a box. Chipotle's not the only one. In this video, a drone carries fro-yo from Orange Leaf to a college campus.
But drone delivery of food won't be an efficient, executable program for years to come. The Federal Aviation Administration prohibits drones from flying out of an operator's sight, and as yet, there's no system in place for managing drone traffic, or ensuring its safety. Nevertheless, restaurateurs should be watching as this tech evolves. "At this point, [fast food executives] will have to consider it," Orange Leaf franchise owner and drone dealer Jeremy Latchaw tells QSR magazine. "Sort of like having an app now—the technology will be there and accepted by customers, and they will expect everyone will do it that way."
The inevitable delivery backlash
Every food trend has its downside, and delivery is no different. Food writer Leah Finnegan names the many drawbacks to the delivery trend. One big one: Restaurants' already slim profit margins are made slimmer by delivery-service fees from companies like Seamless, which may hit 20 to 30 percent of the bill. Restaurants that prefer to manage delivery in-house can partner with a software provider like Olo.
Delivery drivers aren't reaping the benefits. "It should cost more than $3 to summon a human being to travel to a restaurant, retrieve a made-to-order burrito bowl, and carry it to a far-away apartment on the top floor of five-story walk-up, all because someone had a craving for guac," Finnegan writes.
Another problem: Delivery is a crowded room right now. Dozens of food-delivery startups have appeared in recent years — just look at this chart showing launches and flameouts. The market includes not only restaurant meal delivery but grocery delivery, meal-kit delivery and pre-made meal delivery. Even Facebook is getting into online food delivery, launching order buttons on restaurant pages and partnering with Delivery.com and Slice for fulfillment. One thing's for certain: the experience of calling in your order and waiting an hour will soon be a thing of the past.
Has your restaurant found success with online food delivery? Tell us about it and we may feature your business in a future post.