Menus are going to look a little different on May 5, 2017. That's the deadline set by the Food and Drug Administration for restaurants with 20-plus locations to provide nutrition information to their customers. Calorie counts must be featured prominently on menus, and detailed nutrition information must be made available in restaurants. Do you operate one of the estimated 278,600 restaurant locations affected by the menu-labeling law? We've answered six questions many operators are asking.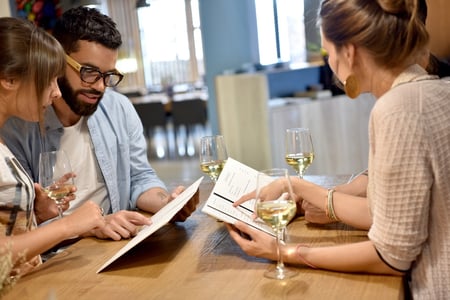 1. Is menu labeling really going to affect customers' ordering habits?
Menu labeling has been mandatory in New York City since 2008 — so everyone in NYC must be eating like yoga instructors. Right? Not exactly. As time passed, restaurant customers learned to simply ignore the labels. "More significantly, at no time did the labels lead to a reduction in the calories of what diners ordered," pediatrics professor Aaron E. Carroll writes. "Even if people noticed the calorie counts, they did not change their behavior."
It's not just New York. A review of 31 separate, recent studies found that, while calorie labeling produced some positive results, "calorie labels do not have the desired effect in reducing total calories ordered at the population level." Why do people ignore them? Possible reasons include valuing speed over health; already being familiar with the menu; intending to burn off the calories later; and lack of nutritional knowledge.
2. Is menu labeling going to do anything good for my business?
While most restaurant operators are (understandably) grousing about the logistics of implementing menu labeling, it may be more useful to think about how labels can attract health-conscious customers. Can you turn the hassle into a halo?
You already know that millennials are obsessed with healthy eating — which, to them, doesn't mean low in calories. It means fresh fruits and vegetables; clean food without preservatives or artificial ingredients; and organic and sustainable sourcing. Consider adding information about food origins and benefits to your menu along with the required calorie labeling.
3. How do I get accurate calorie information for my menu items?
Restaurant owners don't have to pay for laboratory analyses of their food, the FDA says; it's okay to use nutrition databases and cookbooks to figure it out. The USDA Food Composition Databases have nutrition information for more than 77,000 different foods, from Aardvark Habanero Hot Sauce (zero calories) to ziti (210 calories/cup). However you choose to calculate calories, make sure the process is carefully documented. FDA inspectors may ask to see the method and data used to obtain nutrition values.
Of course, the accuracy of a calorie count depends entirely on consistent serving sizes. While the FDA doesn't require that a serving size be listed on menus, Fast Casual notes, "you must make it clear to guests concerning exactly what they are getting for the listed caloric amounts. For example, salads that come with dressing must be listed as such, and you must also account for all condiments that are regularly included on sandwiches."
4. Are alcoholic beverages included in the menu-labeling law?
Yes: beer, wine and cocktails that are a "standard menu item" also need to be labeled with calorie counts. In some instances there's a little flexibility for beer and wine, the FDA says, allowing calorie ranges instead of precise counts. Temporary or seasonal offerings — drinks that appear on the menu for fewer than 60 days in a year — don't have to be labeled.
5. What do employees need to know about the new labeling standards?
Servers and counter staff can expect an onslaught of questions as customers notice the new calorie labeling on menus. While they don't need to memorize the complete nutritional information for every menu item (the FDA requires this info be presented either in print or digitally), they should know the calories in popular menu items, and be able to explain to customers how substitutions will affect the numbers, advises menu labeling expert Betsy Craig.
Craig also suggests that when customers have questions about how nutritional information was calculated, employees should be able to refer to a company disclaimer: "This disclaimer is designed to protect your brand, employees and guests and needs to include the steps your brand has gone through to ensure menu labeling compliance."
6. How strict is the FDA about menu-labeling rules?
Very. And the law includes some quirks. For instance, items up to 50 calories must be rounded to the closest five-calorie increment. Items with more than 50 calories must be rounded to the nearest 10-calorie amount. And fonts matter: the calorie count must be displayed in a type no smaller than that of the menu item's name or price, in the same color, or an equally conspicuous color. Also, you must print this statement on the menu: "2,000 calories a day is used for general nutrition advice, but calorie needs vary." Not exactly poetic. Or grammatically correct. Find all the menu-labeling standards here.
Is your restaurant company ready for the menu-labeling laws? Tell us about the innovations you're planning for 2017, and Hamilton Beach Commercial may feature your business in a future post.