Fried chicken. Meatball sandwiches. Country-fried steak.
Those are just a few of the hospital food offerings the Physicians' Committee for Responsible Medicine (PCRM) found in a 2011 study. Dietitians surveyed more than 110 hospitals and found an abundance of fast-food outlets as well as cafeteria and patient menus "dominated by foods high in fat, cholesterol, calories, sugar, and sodium."
The findings didn't surprise Susan Levin, PCRM's director of nutrition education, but she believes hospitals have a duty to do better. Most people are hospitalized because of a chronic illness brought on by poor diet or lifestyle choices, she points out, so why not take the opportunity to teach them how to eat right?
We spoke with two innovators in healthcare foodservice who won awards for doing just that. Drew Patterson is culinary director of Ohio State University's 1400-bed Wexner Medical Center, which won Best Wellness Concept from Food Management in 2015 for its Michael D. Bloch Café. Dan Henroid is director of Nutrition & Food Services at the University of California San Francisco Medical Center (UCSFMC), which won Best in Show. Here are some of their best practices for hospital foodservice.
1. Educating and eating go hand in hand.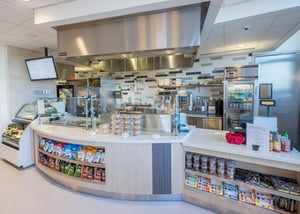 The Bloch Café's innovative concept is a menu centered around 25 cancer-fighting foods, such as kale, tomatoes, berries and spices. The menu changes daily in four-week rotations, and chefs converse with guests to explain why they incorporate those foods. They do monthly cooking demonstrations and even give away the recipes. "We wanted it to be very educational, but at the same time not really cram the information down people's throats," Patterson says.
The café staff are careful not to make claims that these foods can cure cancer, while explaining that they are being used in clinical research. For instance, Wexner's researchers are conducting a study on the benefits of black raspberries, and to support those efforts the café is creating gift boxes of raspberry confections for customers to buy.
2. Beverage options are limited.
Sugary drinks threaten patient health just as much as fried foods. Studies show that drinking just one soda per day can increase the risk of dying from heart disease by nearly one-third and increase the risk of diabetes by 26 percent, according to UCSF.
In 2015, UCSF made a pledge to sell only zero-calorie beverages or nutritious, non-sweetened drinks, like milk and 100 percent juice, in all onsite cafeterias, food vendors and vending machines. The Bloch Café skips the soda as well, instead serving fruit-infused water made in house.
3. Trained chefs make hospital food appealing.
The secret to enticing patients to eat healthful food? Talented chefs, Patterson says. He has 39 chefs, all culinary school graduates, on staff at the medical center. Once, no one would have touched Brussels sprouts in a hospital café; but a chef's touch and some sautéed garlic made them a popular menu item. "Now, every time we put them on, they're flying out of here," he says.
A chef's talents can even promote healing. Pnina Peled, now senior executive chef at New York Presbyterian, won attention at Memorial Sloan-Kettering Cancer Center for the meals she custom-created for young cancer patients. When an 8-year-old asked for "unspicy spicy noodles," for instance, she made whole-wheat spaghetti dressed with sesame oil and topped with minced green beans.
4. Patients are given the power to choose.
UCSFMC's newly built Mission Bay campus has an interactive patient care system that consists of a 65-inch display screen and a 10-inch tablet in every room. Integrated with a complex back-end system, the screens allow patients to order meals from a menu that's customized for their food restrictions and requirements. The system also shows nutritional info and identifies food that's vegan, organic or gluten-free.
Meals are also made to order at Wexner. It may seem time-consuming, but the result is improved efficiency, Patterson says. Because patients get to eat what they want, when they want, the hospital has seen a "huge decrease" in food waste, he says — which in turn allows him to reinvest in higher-quality proteins and more fresh produce.
5. Technology creates efficiency.
The back end of UCSFMC's meal-ordering system prints out tickets that are scanned when meals are assembled and again when they're delivered. Henroid can see at a glance how long the process takes. While human ambassadors bring meals to rooms, a fleet of 27 robots is used to transport meals from the kitchens to patient care units. On one recent day the robots made a total of 108 trips, carrying 325 meals a total of 12.5 miles. "That's 12 and a half miles that people would have had to walk," Henroid says.
6. Local is good; low-cost is better.
At the Bloch Café, almost everything is made from scratch, and local produce is used when it's available. Some veggies are even grown on the premises, in the medical center's terrace gardens. However, Patterson believes that local and organic should be secondary to food price and appeal. A dinner entree, such as chicken piccata with garlic mashed potatoes and steamed asparagus, costs around $10.29. The café's popular soup/sandwich/salad combos cost $6.49 — less than a similar offering at Panera Bread. UCSFMC offers a one-box salad bar that's $5.75 no matter what you put in it. It's a good value that's competitive with other local eateries, Henroid notes, "and that encourages healthy eating."
If you have a fun or interesting story idea, please submit it here. The best stories will be developed and published on our blog to be distributed to the international HBC Community, with your name attached. A little publicity can always help to grow your business and awareness.