Customer loyalty programs aren't just for big business. Any size company, from a small café to a regional chain, can employ a cost-effective digital loyalty program to encourage customers to keep coming back. A repeat customer spends 67 percent more on a single purchase than a new customer does, a Manta and BIA/Kelsey report found; and, as Entrepreneur notes, "they should be rewarded for this action, as retaining customers is less costly than acquiring new ones."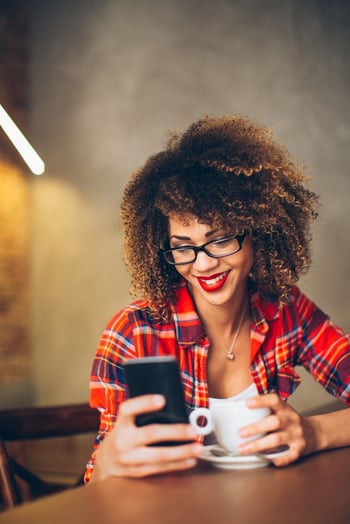 But how can a company ensure its loyalty program investment will pay off? Hamilton Beach Commercial spoke with Jenny Beightol, Director of Words & Reputations for Belly. With more than 12,000 clients and 6 million members, Chicago-based Belly is the leading digital loyalty solution for businesses. Here are six strategies for making your digital loyalty program a success.
Think beyond freebies.
When businesses create a suite of rewards for their loyalty program members, it makes sense to begin with the basics: a free appetizer, or a milkshake BOGO. But go a little further, Beightol advises, and create "moments that your loyal customers can share with your business." Belly calls these "Experiential Rewards."
At Chicago's Alleycat Comics, the reward for accumulating 350 points is to "Punch Staff Member Of Choice In The Stomach." At Brickhouse Pizza in Brooklyn, the top reward is not just a free pie, but the chance to come into the kitchen and learn how to toss dough like a pro. For 250 points, Molly's Cupcakes gives customers a choice: a personal dance lesson from a staffer, or a 10-minute, all-you-can-eat cupcake binge.
Offering experiences like these can help boost your brand. If a customer earns a free soda, she's not going to tweet about it, Beightol says. But you're going to Instagram the moment "when you're behind the counter and you're making the BLT that you're going to name after yourself and have on the menu for the next month."
Understand the concept of "goal gradient."
Scientists studying the psychology of rewards have discovered a few interesting things about human behavior. One: the closer we come to achieving a goal, the harder we'll work to get there. Two: if we get a head start, we become even more motivated to get to the goal.
One study tested two types of loyalty cards that gave customers a stamp every time they came in for a car wash. One required eight stamps to earn a free wash; the other required 10, but the first two stamps were already affixed to the card. The 10-stamp group was much more likely to make repeat purchases. They also came back more often, visiting the car wash three days sooner, on average, than the other group.
How can businesses harness the goal-gradient effect for their digital loyalty programs? Consider offering extra points for a customer's first check-in. Each time they return, show them how close they are to achieving the next reward.
Learn from the big brands' digital loyalty programs.
Large chains are always testing new ways to improve customer loyalty. Chipotle, for instance, launched a limited-time customer loyalty program in summer 2016 called Chiptopia. Designed to recapture traffic lost during the restaurant's food-safety crisis, the program rewarded customers for the frequency of their visits, not dollars spent. The rules were a little complicated: customers earned free entrees for their fourth, eighth and 11th visits each month, as well as rising to a new status level. Eating at Chipotle 11-plus times a month for three months was rewarded with a catered banquet for 20 people, valued at $240.
Restaurants seeing a dip in traffic may want to try a similar strategy, offering special rewards for frequent customers. Or, they could follow Starbucks' lead and turn loyalty into a game. The Starbucks for Life Summer Edition program awards game plays for each purchase; customers can then redeem the plays for a chance to win prizes, including Starbucks for life (actually 30 years, but that's enough caffeine for anybody).
Personalize your digital loyalty program.
Customers are smart, Beightol says. They can tell when a company is sending them generic email blasts, and they learn to ignore them. Conversely, they appreciate when companies pay attention to their preferences.
"The more personalization the program can offer, the more successful it can be," Beightol says. "If they're consistently coming into the restaurant for the lunch specials, they want to get an offer that's specific for lunch."
Keep nudging customers to participate — gently.
To encourage customer participation in the program, Beightol suggests giving employees talking points. A point-of-sale reminder to check in and earn points helps keep interest high. Belly includes the capability to target customer segments based on visit history. A business can automatically send emails to customers who haven't checked in for 30 to 90 days, inviting them to come back and get a reward.
Give customers the card option.
When comparing a physical card and a digital loyalty app, the app seems like the clear winner. It doesn't take up any wallet or keychain space. Scanning a phone screen is easier than fishing for a plastic card. And customers can use an app to track their points and rewards.
Yet you should let customers make that choice themselves. Belly offers both a card and an app. "You'd be surprised," Beightol says. "More people use the card."
Do you have a customer loyalty program success story to share? Tell us about it and we may feature your business in a future post.