Next in our series of interesting applications for an in-chamber vacuum sealer is experimental cooking. The effects that vacuum sealing has on food mean that you can play and create new presentations of old favorites.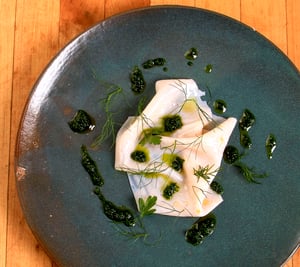 Our favorite example comes from Chef Andrew Manning right here in Richmond. With a vacuum sealer and sous vide equipment, he created what he calls shrimp "paper", pictured above.
Find out more about this and other surprising culinary techniques for vacuum chamber sealers, by downloading our new eBook, More Flavor, More Life: 28 Inspired Applications for a Vacuum Chamber Sealer.
In addition to this idea, you'll find out some other creative ways to use this versatile piece of kitchen equipment that you may not have thought of.
Get it today, it's free!