They always order the tofu curry, but they're OK with chicken broth in tom kha soup. They say no to spaghetti with meatballs and yes to spaghetti carbonara. They ask for the veggie burger — with bacon.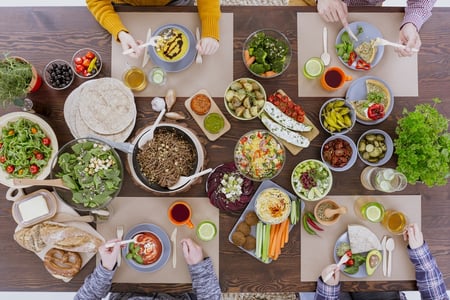 They're the flexitarians: people who follow a primarily plant-based diet, but aren't averse to eating small amounts of meat. And their ranks are growing fast. But how can restaurants capture this hard-to-pin-down diner?
What's behind the rise in flexitarians and reducetarians?
An interesting piece of data appeared in Technomic's 2017 "Center of the Plate: Seafood & Vegetarian Consumer Trend Report." Just 4 percent of consumers said they were vegetarian or vegan, down from 9 percent in 2014.
That doesn't reflect an actual decrease in people who avoid meat, however; just a shift to two new categories, pescatarian and flexitarian. About 15 percent of consumers say they restrict meat in their diet, and even more younger diners do: 21 percent.
The trend of diners cutting back on meat isn't a new one, but it's been slowly building to a crescendo. From 2005 to 2015, Americans cut annual meat consumption by 15 percent, to 101 pounds per person. (In the last few years, however, beef's popularity has inched up due to lower prices and changing perceptions of its healthfulness.)
Why is being a flexitarian become popular? It represents the confluence of several trends. One is consumers' desire to "eat clean" by choosing natural and organic foods; another is their interest in the ethical treatment of animals. "Consumers tend to conflate clean and free-from and animal welfare-related as interchangeable," observed menu trend analyst Nancy Kruse at MUFSO, the Multi-Unit Foodservice Operators' conference, in October 2017.
A third factor: Being a flexitarian is healthier than being an omnivore. Multiple studies suggest a flexitarian diet is associated with lower body weight, improved metabolic health, lower blood pressure, and reduced risk of type 2 diabetes.
Closely related to flexitarians are reducetarians, people who also are cutting back on meat but doing it primarily for environmental reasons. Reducetarians may employ strategies such as Meatless Mondays, Vegan Before Six (VB6) or simply being a weekday vegetarian.
What restaurants can do to woo flexitarians
There's a huge opportunity for restaurants to win the loyalty of a flexitarian audience. Of all the limited-service restaurants on Technomic's Top 500 Chain Restaurant Report, only 26 percent offer vegetarian entrees, Restaurant Business reports. To win over flexitarians, restaurants may want to…
Focus on meat quality, not quantity. Many people want to know how much meat a flexitarian is allowed to eat. That question misses the point a little — the flexitarian lifestyle is about embracing veggies, not sneaking ham sandwiches. But Dawn Jackson Blatner, author of The Flexitarian Diet, came up with some guidelines. Ideally, she says, "expert-level" flexitarians should eat meat only two days per week, and no more than 9 ounces each week in total.
That means when a flexitarian orders a meat dish, they want to make every ounce count. They're not going to order a big T-bone steak; they want a perfect petit filet.
Treat vegetables like the stars they are. Veggies can move from the side of the plate to the center when they're cooked in exciting ways. At Philadelphia's Vedge, you'll find char-grilled brussels sprouts, flash-seared pea leaves, and wood-roasted carrot. Washington D.C.'s Friday-night-only Elizabeth's Gone Raw serves a six-course tasting menu that's all vegan, all raw and yet absolutely decadent. On a recent fall menu appeared pink banana squash soup with sage crème fraîche, curry spaghetti squash and turmeric ginger foam; and cauliflower panna cotta with seaweed caviar, parsnip celeriac crème, black garlic chips and shaved persimmon.
Avoid the usual vegetarian menu items. For a flexitarian who's avoiding meat on a particular night, there's nothing more dispiriting than seeing a token vegetarian offering on the menu. Pasta primavera and portabella burgers, we're looking at you. Restaurants do need to offer some meatless meals to avoid the "veto vote," says Anne Mills, consumer insight manager for Technomic: "Otherwise if you have a vegetarian or vegan in the dining party, the party will have to make a decision not to visit that restaurant because there isn't an option for that person." But they should be thoughtful and creative offerings.
Make meaty classics worth the splurge. At Brenner Pass, a critically acclaimed Alpine restaurant in Richmond, Va. James Beard-nominated chef Brittanny Anderson butchers and hangs the meat herself. The Brenner Pass burger is a thing of beauty: a patty of ground brisket and short rib, flavored with bits of smoked, rendered sirloin. "The result? A burger with the intense, beefy taste of a properly dry-aged steak," raves food critic Todd Kliman. That's the kind of thing a flexitarian will break a meat-fast for — not a half-hearted patty.
Is your restaurant reaching out to flexitarians? Tell us how you do it here! We may feature your business on our blog, which reaches an international community of foodservice professionals.