Dining dayparts, once crisply defined, have gotten fuzzy. Breakfast spots that saw a reliable pre-9 a.m. rush now have traffic trickle in all morning. Cafés have remote workers lingering at tables, lunching as they work on their laptops. The dinner rush has expanded into the afternoon, as customer pick up meals while they're out and about.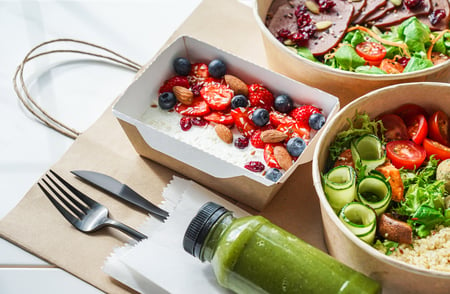 "The key to the industry's recovery will be the strength of each daypart," The NPD Group reports. Each daypart, from breakfast to evening snack, will be shaped by "new rhythms of home, school, and work-life."
As consumers' new work-from-home/hybrid schedules alter when — and how — they eat, how can restaurants adapt? Let's take a closer look at each daypart.
Morning Meal
Morning meal, which includes both breakfast and snacks, has experienced a significant slump. In the United States, The NPD Group found morning meal visits were down by 5% in May 2021 compared to May 2020 and down 11% compared to May 2019.
The problem? Morning meals are dependent on consumers' daily rituals, which were disrupted by the pandemic. No longer were people stopping off for an egg-and-cheese sandwich before work, or a mid-morning muffin.
There are a few exceptions to the morning-meal downturn. Florida-based First Watch, a casual-dining chain that serves only breakfast, brunch and lunch, opened 42 new stores in 2020 and expects to beat that number in 2021 and 2022. CEO Chris Tomasso says the secret is freshness and menu innovation: "We have a broad range of offerings and ethnic dishes and standards, but then some things that we do really well and are unique to us, like our fresh juice program."
To capture the returning morning customers, operators should think about what they can do to stand out in their market. Breakfast tacos? House-cured bacon? As First Watch demonstrates, freshly squeezed juice can be a powerful draw. The FreshMark™ family of commercial juicers makes it easy.
Lunch
Lunch traffic has lagged, too; in the U.S., visits were down 4% in May 2021 compared to May 2020 and 10% compared to 2019, The NPD Group found. Restaurants most affected are those that relied on workday traffic from nearby businesses and office parks. When will those in-person workers all return? That's still uncertain.
One bright spot is that restaurants have expanded the ways they serve customers. Even if traditional lunch traffic is down, they're still seeing high volumes of curbside pickup, pre-packaged takeout, delivery and drive-thru orders.
"If consumer behavior is not going to go back to pre-pandemic we have to evolve our sales and traffic channels," says Kerri McLeroy, senior marketing director for bakery-café chain la Madeleine. That's good advice for any restaurant seeking to lift its lunch traffic.
P.M. Snack
Who needs a late afternoon or evening pick-me-up? Everyone!
"P.M. Snack, which has benefited from more flexible schedules blurring the dayparts and customers' hesitancy to dine in, is the only daypart that has increased visits over the past year," The NPD Group reported. In May, those visits were up 8% compared to 2020 and up 3% over 2019. (The P.M Snack daypart encompasses both pre- and post-dinner times: 3 p.m. to 5 p.m. and 9 p.m. to 5 a.m.)
There are many ways to target this growing daypart.
Dinner
Truth: Most people are pretty tired of their own home cooking right about now. While dinner daypart traffic is still down year over year, restaurants are trying hard to boost sales.
Convenience is key. "The dinner daypart has emerged as a much stronger play for drive-thru," Darren Tristano, CEO of FoodserviceResults, said in a recent webinar on QSR's Drive-Thru Study. "We're seeing higher check averages, larger purchases for bigger occasions – these would be family occasions." The study found that dinner was the biggest draw for most drive-thru customers. 41% of consumers said they were likely to visit a drive-thru for dinner, compared to 34% for lunch and 11% for breakfast.
Offer family-style, shareable meals for weary workers who just want a meal that's easy and delicious at the end of the day. And take a close look at your current menu: Does it need to be streamlined, or is it time to add more crowd-pleasing entrées?
It's still essential to take good care of dine-in customers. That sense of place is cherished now more than ever. "It's all about community, and the reality is people eat out and go to their local establishments because they love the feeling that they get when they're there," Steele Smiley, founder and CEO of fast-casual chain Crisp & Green, tells QSR magazine.
We're here to help your restaurant business come roaring back. Explore Hamilton Beach Commercial's full line of foodservice and beverage solutions.