Freshëns was fast casual before fast casual was cool.
Founded in 1985 as a frozen-yogurt store, Freshëns found its niche serving health-conscious students on college campuses. Now, it's the largest yogurt and smoothie company in the nation. Hamilton Beach Commercial is proud to support its growth by providing high-performance blenders, drink mixers and more.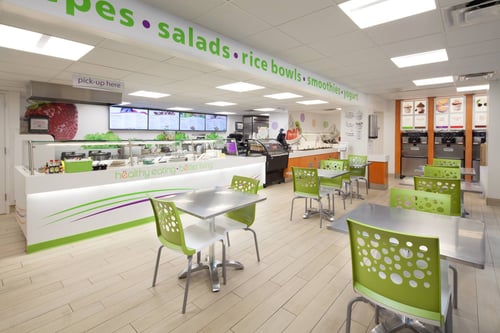 How has Freshëns continued to capture the 18-24-year-old niche while staying true to its brand? We talked to Joe Sardina, Vice President of Operations, to find out.
Food trends: Lead, follow or pass over?
Freshëns began as a frozen-yogurt store in the mid 1980s, when fro-yo was huge. "We were trying to be the Haagen-Dazs of the yogurt world," Sardina explains.
But even then, Freshëns — unlike rivals such as TCBY — knew the fad wouldn't last forever. The company's leaders began looking for what would come next.
In the 1990s, Sardina — who was a franchisee at the time — remembers Freshëns ' CEO traveling to California and returning with a mission: to expand the menu with yogurt-based smoothies. "It really matches well with what a frozen yogurt store is, with what our brand means," Sardina explains. Smoothies continue to be a success for Freshëns .
During the recent resurgence in self-serve fro-yo, however, Freshëns chose to stay out of the fray. The problem — both in the 1980s and now — is that most frozen-yogurt stores serve identical products, Sardina observes: "It's just a different name, a different cup, a different location." That generic quality signaled the coming end of the self-service trend.
Download our eBook to learn about other ways besides self-service to improve efficiency
Expanding food offerings while staying true to the brand
Around 2010, Freshëns decided it needed to be more than frozen yogurt and smoothies. The company introduced breakfast crepes and savory crepes, which proved popular. Over the next few years, Freshëns began serving salads, flatbreads, and macaroni and cheese bowls.
Before introducing these menu items, however, Freshëns did one crucial thing: a brand DNA study. The company wanted to understand its brand not from the inside, but from the outside, as customers perceived it. They learned that customers thought of Freshëns primarily as a source for healthy, fresh food; a place that would rejuvenate them.
Freshëns does extensive testing of new menu offerings. If a food item doesn't fly with a focus group, it never gets rolled out. Focus groups, for instance, revealed college students' desire for all-day breakfast crepes: "I don't get out of bed till 11. I would love to eat that, but you've got to have that in the afternoon," they said. And focus groups gave the thumbs-down to fruit-infused teas, despite multiple attempts to fine-tune the flavor.
The latest offering, rice bowls in flavors like Spicy Korean and KC BBQ, "caused our business to explode," Sardina says. The bowls' success led Freshëns to spin off a new franchise called Burritobowl. With locations at 10 universities, Burritobowl serves customizable bowls and burritos in global flavors, from Mexican to Cajun to Greek.
Finding the way to Gen Z's hearts
While most restaurants are courting millennials' tastes, Freshëns has already moved onto Generation Z. Today's college freshmen are technically Gen Z — representing people born in the late 1990s through the 2010s —"and there are some subtle differences from the millennials," Sardina says.
The big one, he says, is increased customizability. Millennials like personalized food, but "we're seeing in Gen Z that it needs to go even further." Already, about a third of Freshëns ' hot-food business comes from consumers creating their own salads or rice bowls, and the company expects that to increase.
Gen Z customers also demand even more transparency with food sourcing and ingredients. Local sourcing is assumed, Sardina says, and now, "they want to know where did that corn come from, how far did that chicken travel?"
Freshëns relies on its Hamilton Beach Commercial kitchen equipment to help meet these customers' expectations that food will be made fresh and locally sourced. "One of the ways that we approach that is with the HBF600, the food chopper, so we make as much as we can in the stores," Sardina says. For instance, Freshëns locations will buy local buttermilk and local mayonnaise, then use the company's seasoning mixes to make ranch dressing. Blend in some peppers, and they have chipotle ranch; or add organic kale and lime juice for kale ranch.
For customized drinks, Freshëns uses the Tempest high-performance blender for smoothies and the Mix 'n Chill Drink Mixer to serve its Fro-Yo Blasts. It also relies on Hamilton Beach Commercial's dishers, rice cookers and other products as part of its commitment to healthy, freshly made food.
How has Hamilton Beach Commercial helped your business thrive? Tell us about it and we may feature it in a future post.