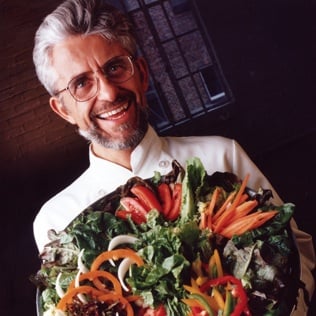 Although decadent and vegetarian are not often used to describe the same dish, these terms aren't mutually exclusive, either. Just look at French chef Alain Passard's vegetable tasting menu at L'Arpège, which made the New York Times' food critic swoon over carrots and peas.

Executive Chef Ron Pickarski (pictured left) has been combining vegetarian dishes and classical French techniques for decades. His culinary career is an unusual one, taking him from his family's diner in Michigan to the friary where he spent 23 years as a Franciscan monk. He became vegan in 1977, and six years later became the first professional vegetarian chef to be certified as an Executive Chef by the American Culinary Federation. He has since written several cookbooks and started his own company, Eco-Cuisine, and competed in the International Culinary Olympics five times over a 20-year-period, winning gold, silver and bronze for his vegan dishes. He shared some of his tips for creating classical vegetarian cuisine.

A fresh approach to vegetarian cuisine

Pickarski's specialty is translating classical French and modern cuisine into vegan or vegetarian fare: "A good recipe should have few ingredients, classical techniques and simple flavors." Chefs who are new to vegetarian cooking don't understand center-of-the-plate proteins and end up making side vegetables the centerpiece, he says. "Conversely, natural-foods cooks know the proteins but often create entrees with excessive ingredients and complicated flavors."

His advice: "Take the recipes you're used to working with and just start by replacing the protein in the recipe." He suggests chefs take the time to learn about proteins such as tempeh, vegetarian meat analogues and seitan—their uses, textures and how they're made. Pickarski produces his own line of vegetarian protein quick-mix dry blends for chicken-, beef-, seitan- or sausage-style meat substitutes.

Vegetarian versions of canonical French sauces

Classical French cooking is based on the canon of the five mother sauces: espagnole, velouté, béchamel, tomato and hollandaise. Pickarski adapts the same sauces to use in his cooking. With a culinary blender, he makes hollandaise with vegan margarine, roasted yellow pepper and tofu, all blended with lemon, salt and pepper. The beauty of this vegan hollandaise is that it can easily be heated or reheated to serve, he says: "You can't do that with a traditional hollandaise. Once you make it and heat it you have to keep emulsifying it."

Other mother sauces can also be made vegan or vegetarian by replacing ingredients. Pickarski makes sauce espagnole, which traditionally contains veal stock and beef, with tamari and mirepoix. Velouté can be made with Eco-Cuisine's vegan chicken-style broth. Any of these variations can be paired with non-vegetarian dishes as well.

Using a culinary blender for nut creams

Pickarski's secret weapon in the kitchen is his Hamilton Beach Commercial HBF600 culinary blender. He primarily uses it for making nut creams: raw nuts blended with water to make a smooth, thick mixture that can serve as a base for recipes both savory and sweet. Properly made, a nut cream has a light nut flavor that can be neutralized by using soy milk to create a flavor profile similar to dairy, he says. He can even use it as a base for crème patisserie, he says, "but instead of doing things the way the French do it, I just put everything in a blender, blend into a cream, and heat until the mixture thickens." He also uses his Hamilton Beach Commercial blender for making vegan ice creams and cheeses. Here's a primer on the basics of nut creams.

"For me, blenders are crucial, in terms of working with nuts," Pickarski says. "I need high-speed blenders that can really pulverize something into a cream with no grit." With the Tournant, he says, the process is so fast there is hardly any stress on the motor. Smaller "home-economics blenders" don't have the power and can easily overheat, he says.

Ready to put your culinary blender to work? Here is Chef Ron's recipe for vegan yellow pepper hollandaise.

Yellow Pepper Hollandaise©

Copyright © from the cookbook "The Professional Vegetarian Chef" by Chef Ron Pickarski

Yield: 2-1/2 cups (10 portions)

Ingredients:

1 cup yellow bell pepper, roasted & peeled
1 package (12.4 oz.) extra firm silken tofu
2 tablespoons lemon juice
2 tablespoons Chardonnay
¼ teaspoon salt
½ cup butter spread (olive or canola option)

Instructions:

Roast yellow bell peppers, sweat for 20-30 minutes in covered container, and peel. Heat peppers and wine in pan on medium heat for 3-5 minutes. Warm butter spread. Place all ingredients in a culinary blender and blend until completely smooth. Warm and serve as desired.

Headed to the ACF National Convention and Show this weekend in Orlando? Come see us in booth #407 on Saturday and Sunday!

If you have an interesting story about your offerings, some recipes you would like to share with the rest of the HBC community, or an intriguing customer service experience to share, we would love to hear from you. The best stories will reference your name and your establishment, and could garner you some national or even international publicity. Please share your stories here.