Take a trip back through all the cocktail trends of the last few years, and the variety is dizzying. Produce-driven cocktails. Revivals of classic cocktails. New twists on classic cocktails. Craft frozen cocktails. Tiki drinks. Even the once-scorned staples of college bars, like the Long Island Iced Tea, have gotten a makeover from modern mixologists.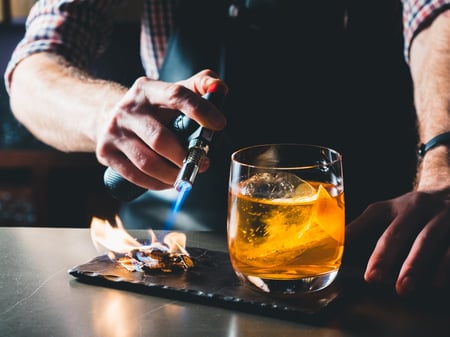 Is there anything left to try? Oh, yes: The last frontier in cocktails is all about science. Mixologists at places like Washington, D.C.'s barmini and Chicago's Aviary are adapting the techniques of molecular gastronomy to serve up drinks that change color, fizz and smoke. But there's a method to this madness. Here are five principles they follow.
1. Let guests interact with your drinks.
One standout drink at the Aviary is the In the Rocks, a cocktail served inside a hollow sphere of ice. The latest version, unveiled for the Aviary's New York City expansion in 2017, is a Szechuan- and Champagne-inflected Old Fashioned.
The ice shell is made by filling balloons with the water-bitters mixture and rapidly freezing them in a water and ethanol bath at -15°. Liquid water is removed from the center with a syringe, then the drink is injected. How do you drink a cocktail inside of an ice ball? The drink is served with a special, ring-shaped slingshot that rests on the rim. Pull back the sling and pow — the ice cracks and the drink spills out. This little bit of subversive fun has made the drink perennially popular.
2. Ice should add, not subtract, flavor.
The Aviary keeps 25 to 35 types of ice on hand in different shapes, sizes, flavors and colors. Instead of serving a margarita that gets watery as it melts, they offer one that gets spicier, beverage director Micah Melton explains. Even a glass of water gets a hand-chipped piece of ice.
And even plain ice isn't plain. "You have to start with a good water to make good ice," Melton says, so The Aviary uses water purified with reverse osmosis. It even has a dedicated employee — known as "The Ice Guy."
3. Heat things up with smoke and fire.
A standout drink at barmini is the cedar and agave cocktail, for which the bartender uses a handheld torch to burn part of a cedar plank, then traps the smoke in the glass. The aromatic scent of cedar, plus the visual statement of charred wood and gray smoke swirling under glass, make a memorable experience. Tales of the Cocktail lists seven ways to add smoke to cocktails, from the classic but effective smoke gun to the subtler addition of smoked fruit or herbs.
4. Molecular mixology is not just art — it's theater.
Cocktail scientists don't lock themselves in the laboratory. They need to be performers, too. "We like to bring the magic and whimsy and soul behind the drink," barmini's Cocktail Innovator Miguel F. Lancha tells Tales of the Cocktail. "We use it to transport people." Guests ooh and ahh when a drift of dry-ice-frozen hibiscus tea floats over the Floral Cloud cocktail, or when a spritz of liquid turns the Divine Wind from blue to violet. "It's a sensory explosion of pure happiness and excitement in every sense," raved one Yelp reviewer about barmini's seven-cocktail flight.
5. Sensory experience is more important than technique.
Because molecular mixology can be so complicated, it's easy for professionals to be seduced by the process. Aviary's cocktail creators have "a lot of toys," says Charles Joly, former beverage director for the Aviary: super-chillers, blast chillers, chainsaws, torches. "But more important than the toys is the experience. … The more senses you can hit on, I think, the bigger splash a cocktail can make."
Do you have a standout cocktail program you'd like to see featured in this space? Tell us about it!