What does a craft cocktail sound like?
The rattle of ice in a shaker. The squish of a lemon in the juicer. Maybe the whisper of a basil leaf, muddled gently in the glass. And — the whir of a blender?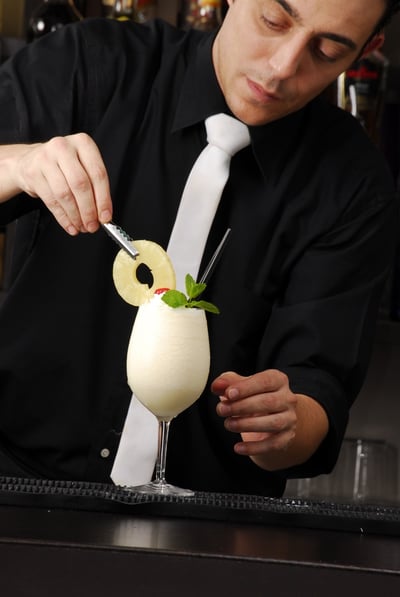 Frozen craft cocktails are coming into their own. As Punch puts it, "blended cocktails are no different than any other classic cocktail with a rich history: They've enjoyed a heyday, seen a resurgence, suffered a dark period and are poised on the brink of another comeback." They're novel, they're popular, and they're profitable. Here's how, and why, frozen drinks are being revived.
A brief history of frozen cocktails
You can't have a frozen drink without a blender (or a whole lot of ice-shaving), so it's no surprise that the invention of frozen cocktails closely followed the 1930s introduction of the blender by Hamilton Beach. The frozen daiquiri, created in a Cuban bar called Floridita, became a favorite of Ernest Hemingway, who is reputed to have drunk 15 in one sitting.
As frozen daiquiris, pina coladas and margaritas became widely popular, however, they also lost their cachet. In recent years, customers' palates evolved to prefer complex craft cocktails, and frozen drinks were relegated to sticky plastic cups at beach bars.
In 2017, frozen drinks are being revived in a big way. "Cocktail bars around the country are fully embracing the idea of frozen by transforming upscale drinks into refreshing and complex libations," says Adrian Biggs, a member of the Bacardi Trade Advocacy Portfolio Team.
Elements of a frozen cocktail menu
Classic cocktails: We're seeing mixologists put a new spin on traditional cocktails by turning them into blended drinks. Can't miss offerings include the frozen Negroni (gin, Campari and vermouth), the frozen Old Fashioned or the ever-wonderful frozen gin and tonic.
Tiki revival: Bartenders have been reinventing classic tiki drinks with a little less kitsch and a little more flair. Examples include the Jungle Bird Blizzard at Donna in Brooklyn, (Cruzan Blackstrap and Appleton rums, Campari, pineapple, orange and cinnamon) and the Pearl Diver, an iconic and unusual mix of rums, orange and lime juice, Velvet Falernum, butter, honey and spices.
Elevated daiquiris: Give the people what they want: frozen daiquiris made with fresh fruit and novel flavor combinations. Here are 10 wildly creative versions, from the Greenhouse Party (with cucumbers, strawberries, Thai basil and black pepper) to the Coffin Cutter (with coffee, vanilla, bitters and frozen banana).
Frozen wine cocktails: The star of summer 2016 was "frosé," a frozen blend of rosé, vermouth, and strawberries invented by Bar Primi in New York. We don't think this trend is going away soon, as summer drinkers clamor for frozen sangria, shiraz slushies and other icy refreshers.
Boozy milkshakes: It's hard not to love a spiked milkshake, although it's also hard to drink more than one. Christina Tosi introduced alcoholic milkshakes in the new Las Vegas outpost of her famous Milk Bar bakery, blending spiced rum into the birthday milkshake and adding triple sec to the cereal milk. Here are a few boozy milkshake recipes we've collected.
Secrets of making perfect frozen cocktails
While we love wild experimentation, there is a science to creating successful frozen drinks. One, sugar is necessary. Because frozen drinks contain more water than other cocktails, "more sugar is required to translate the proper flavors, otherwise the subtleties of citrus and spirits are drowned out with dilution. Sugar, a conduit ingredient, carries the other flavors through," explains bartender Jeffrey Morgenthaler. Two, ice matters. Morgenthaler recommends starting with crushed or cracked ice, which makes it easier to fine-tune the drink as the blender is running.
And three, you've got to use a high-quality commercial cocktail blender. Hamilton Beach Commercial's Wave-Action System ensures a consistent blend to avoid lumps of ice in frozen cocktails. All of our bar blenders are built to last, with powerful motors and a durable drive clutch. The high-performance Eclipse blender uses QuietBlend technology to let your bar customers chat in peace. Don't believe us? Watch it in action!
What's your signature blended drink? Tell us about it here! We may feature your business on our blog, which reaches an international community of Hamilton Beach Commercial clients.