Hong Kong's Penicillin, winner of the 2021 Ketel One Sustainable Bar Award, is more than green. It's a new shade of super-ultra-green.
On the menu, you'll find vodka infused with scrap bread, rum flavored with used tea leaves, and the One Penicillin, One Tree cocktail, which funds the planting of a Mallotus muticus tree in Borneo. The bar's tables were built with tropical storm debris, and even the lights were salvaged.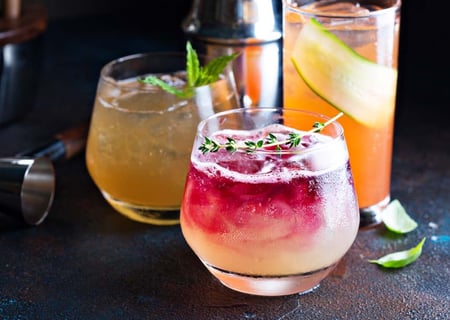 Does it all sound a little… fussy? Here's the kicker: Penicillin owners Agung Prabowo and Roman Ghale also operate a traditional dive bar, Dead&, that serves cocktails on tap and canned beers. Dead& provides ingredient sourcing for Penicillin, Agung tells 50 Best — for instance, Dead&'s discarded paper cups are recycled to make coasters, menus and labels for Penicillin.
The moral of the story: Whether you run an upscale cocktail bar or a neighborhood watering hole, sustainability is within reach. All it takes is creativity and collaboration.
Elements of a Sustainable Cocktail Program
Sourcing
We can't all be like Oslo's HIMKOK, which distills its own aquavit, gin and vodka on site, powered by renewable hydroelectric energy, using exclusively local and foraged ingredients like seaweed and sea buckthorn berries. Still, bar owners should seek ingredients that are:
Locally grown, or even grown on site — try this with herbs and greens
Seasonal, so that you're not purchasing produce transported from thousands of miles away
Organic — or even better, regenerative. Regenerative agriculture seeks to reverse climate change by sequestering carbon and restoring soil fertility.
Responsibly made: Ethical sourcing is one of the biggest 2022 cocktail trends. For instance, "artisanal" mezcal sounds earth-friendly, but its production has decimated the population of rare and wild agave varieties. When sourcing mezcal and other specialty spirits, look beyond the label to ensure it's produced in a sustainable way.
Packaging
It's time to rethink the traditional array of glass bottles behind the bar. Yes, glass is recyclable, but it's also heavy, fragile, and inefficient to move. The production and shipping of bottles accounts for 51 percent to as much as 68 percent of wine's carbon footprint, drinks writer Betsy Andrews points out.
Fortunately, Andrews says, we now have alternatives. One is a recycled PET plastic bottle that is 87% lighter than glass and, thanks to its flattened, flask-like design, can be packed so that 91% more wine fits onto a shipping pallet. Other innovations include paperboard spirit bottles and barley-straw six-pack rings.
Bacardi has announced that by 2023, its namesake rum will be sold in biodegradable biopolymer bottles, made from natural oils derived from seeds. Its other brands will soon follow suit, including Bombay Sapphire, Grey Goose vodka, Patrón Tequila and Dewar's whisky.
Barware, too, can be made more earth-friendly. Consider paper straws, compostable napkins, and vintage glassware.
Waste reduction
Some bars aim for less than zero waste. They collaborate with local restaurants to take their leavings and give them a second life. In Sydney, Re bar's "Never Wasted" menu uses ingredients from several local restaurants, from cod fat to strawberry tops. "Coffee chaff and cascara from Artificer are paired with 14yo sherry cask soda, Chaff Clynelish 14, cascara, cardamom and spent coffee. Chardonnay lees from Margan Winery are used with Johnnie Walker Black Label, raspberry, sunrise lime, charred Jerusalem artichoke and botrytis," Delicious reports.
Sounds delightful, but let's be honest — this approach only works for certain cocktail bars. If most of your patrons order margaritas and vodka-tonics, you don't want to invest time and effort in crafting elaborate zero-waste cocktails. For a better ROI, identify some simple, practical ways to waste less. Hamilton Beach Commercial can help.
The PrimaVac™ line of vacuum chamber sealers is a powerful tool for reducing food waste. Because oxygen is excluded and moisture is retained, vacuum-packed food keeps significantly longer, whether refrigerated or frozen. (Operators must adhere to food safety guidelines and train staff in safe handling practices when using vacuum packaging.) Use it to preserve fresh produce and to rapidly infuse spirits and simple syrups.
The FreshMark™ family of commercial juicers maximizes flavor and juice yield from citrus fruits and other produce. Compost the rinds and pulp for a sustainable waste solution. Or, make citrus stock! As Liquor.com explains, this involves "pressure-cooking spent citrus husks (pulp and all) in water, then straining and adjusting with acid and sugar to produce a liquid that essentially acts as a juice substitute or volume enhancer." This stock can be used as sour mix in many drinks, saving money and reducing plastic.
When it comes to crafting sustainable cocktails, just remember this mantra from mixologist Kate E. Richards: "Progress over perfection!" Taking even small steps to cut waste and save energy can create big improvements over time — and your customers will take note.
Explore the full line of commercial bar equipment and blenders from Hamilton Beach Commercial.