It's summer. You've got your Shibumi sunshade. You've got your platform flip-flops. But one trendy accessory is missing: the drink in your hand.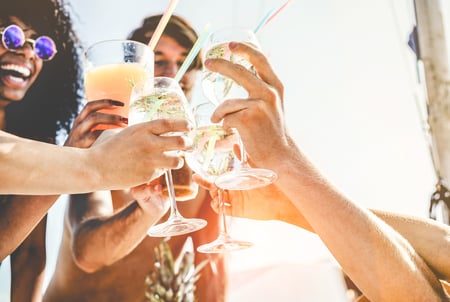 A few years back, the must-have summer cocktail was the Aperol Spritz. Then came the summer of frosé, the summer of White Claw, and the summer of the espresso martini (and other coffee cocktails). But summer 2022 hasn't found its One Drink to Rule Them All — and that's OK! We've found some possible candidates.
Summer cocktail trend: Ranch Water
We've written before about how tequila, along with mezcal and other agave-based spirits, has skyrocketed in popularity. Tequila cocktails are big this summer, and the biggest of all is Ranch Water.
Born in Texas (where else?), Ranch Water mixes tequila, fresh lime juice, and Topo Chico mineral water. Cointreau is optional. "To me, it's a margarita with a Topo on the side. As you drink the Marg, you top it with Topo so the drink changes. That's how it started," says David Alan, author of Tipsy Texan.
Summer cocktail trend: Watermelon cocktails
In Southern Living's list of "Southern Porch Cocktails" (doesn't that sound inviting?), one standout is watermelon sangria. Their recipe uses both sparkling and still rosé, watermelon juice, St. Germain and fresh mint.
VinePair's Zack Geballe likes the combination of tequila and watermelon: "It's such a distinctive and fun and very evocative flavor profile for people, whether you're getting it with actual watermelon juice or whether you're getting it with 'natural flavors,'" he says.
Summer cocktail trend: The Dirty Shirley
Is the Dirty Shirley the top 2022 summer cocktail? Or an affront to drinkers' tastebuds? That depends on who you ask.
The drink is simply a Shirley Temple — lemon-lime soda or ginger ale, grenadine, and a maraschino cherry — with a shot of vodka, tequila, rum, or gin. Some people think it's a fun, nostalgic treat. Others ridicule it as tacky and way too sweet.
If you're adding the Dirty Shirley to your summer cocktail program, consider this grown-up version: the Ambassador from Juli Hale, senior culinary specialist in the Better Homes & Gardens Test Kitchen. Hale upgrades all the ingredients for more flavor and less cloying sweetness, using tequila instead of vodka, homemade chili-infused grenadine, ginger beer, and Italian Luxardo maraschino cherries
Summer cocktail trend: Iced tea cocktails
Refreshingly dry and subtle, cocktails made with tea are having a moment. Black tea and bourbon are good friends, as are green tea and gin. "When brewed and cooled, hibiscus tea takes on a gorgeous magenta color and a tart, berry-like flavor. Use it to make a variation of a Cape Cod cocktail, which is traditionally made with 4 parts cranberry juice and 1 part vodka," suggests Ashlie D. Stevens with Salon.
The complex flavors of tea also lend themselves well to non-alcoholic cocktails, another trend that's still going strong. "Chamomile, floral and botanical, mixes especially well with a vegetal celery simple syrup and fresh lime in a nonalcoholic Celery Sour, while the tannins in strongly brewed black tea play well with a spiced, salted lime cordial and ginger beer in an alcohol-free Dark 'n' Stormy Mocktail," notes The New York Times.
Summer cocktail trend: Spicy margaritas
There's something so perfectly summery about a frozen drink that balances the chill of ice and the heat of spicy peppers, along with the smoke of mezcal or the fire of tequila. Some ideas:
Cucumber and jalapeño
Pineapple and habanero
Habanero and cilantro
Mango, hot sauce and lime
Are your bartenders still using cheap and clunky blenders to make drinks? It's time for an upgrade. A high-performance commercial blender makes it easy to craft frozen drinks with a perfectly smooth consistency: no grainy texture or chunks of ice.
From the high-powered Eclipse® Blender to the sturdy Rio® Drink Blender, Hamilton Beach Commercial blenders helps you make better cocktails faster. See the full line of commercial kitchen equipment for bars and cafés.