By now, you've probably heard the news: Drinking isn't as cool as it used to be.
Compared to millennials at the same age, Gen Z consumers are drinking over 20% less per capita, a groundbreaking report from Berenberg Research revealed. Conscious of their health and image, they instead opt for low-alcohol or nonalcoholic beverages. (This is not true in every nation, of course; alcohol consumption is rising overall in countries like Vietnam, India and China.)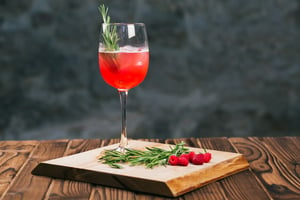 As demand for alcohol dries up, culinary innovators are trying something new. "Juices and other interesting beverage pairings will take another leap again to the main stage," Justin Cogley, chef of Aubergine in Carmel-by-the-Sea, California, predicted in Food & Wine.
Juice pairings aren't brand-new. The concept is credited to Rene Redzepi, founder of world-famous Noma restaurant in Denmark, who began serving sophisticated blends to non-drinking customers more than a decade ago. At the time, other chefs doubted the idea would go mainstream. Now, however, juice pairings are proving popular with customers who don't drink, who are drinking less, or who just want to experience something new. Here are some tips for trying it yourself.
Select juices that mirror the wine you'd serve.
There's hard science underlying wine pairings. The Science of Cooking explains the basic concept: "In wine there are three main acids that have their own associated flavors — malic (green apples), lactic (milky) and tartaric (bitter)." Not only do these acids stimulate appetite, but they each react with different types of foods, changing the way the diner experiences the meal and the wine.
Draw on your knowledge of wine pairings to select juices that have a similar effect. British wine writer Fiona Beckett has compiled a useful list of juices that match various wine varieties. In place of cabernet sauvignon, try blackcurrant juice or cordial. Peach, mango and passionfruit all are good stand-ins for richer chardonnays.
Don't overlook a fourth acid found in wine: citric acid, the same found in citrus. The most iconic citrus juicer on the market is the original Model 932 from Hamilton Beach Commercial, first manufactured in 1932. Incredibly durable and simple to operate, this manual juicer makes quick work of lemons, limes, oranges and other citrus fruits essential to any juice program.
Compose juices that can stand up to hearty courses.
For a main course, choose robust drinks, advises Henrik Dahl Jahnsen, head sommelier at Speilsalen in Trondheim, Norway. It's not as hard as it sounds to achieve that earthiness in fruit and vegetable juices: Jahnsen uses turmeric, for instance, to add the dryness you might find in oaked wine. To accompany meat dishes, he likes beet juice: "The color works on an optical and aesthetic level and, again, the earthiness offers an interesting and tannin-like mouthfeel," he told Food & Wine.
Design cost-conscious juice pairings.
While fresh juices can be an immensely profitable addition to a beverage program, restaurant owners and operators are often taken aback by the cost of ingredients. It takes a lot of produce to make a serving of juice, especially if you're juicing leafy greens. That's why it's important to invest in a commercial juice extractor that maximizes yield — such as otto™ the Juice Extractor. We designed otto™'s blades and strainer basket to extract the maximum amount of juice for all kinds of produce.
Consider produce costs and yield when you're composing your drink pairings. Some lower-priced fruits and vegetables that yield a lot: apples, pears, pineapples, celery, carrots and cucumber. The most expensive fruits include raspberries, blackberries, blueberries and pomegranate.
Get creative.
Surprise your guests with something they've never tasted before! Some notable chefs' creations include:
Charred onion juice at Atera
Fermented granny smith apples, pine needles and charcoal at Andre
Rose kombucha with thyme, blackcurrant wood oil and ants — yes, ants — at Noma
All you need is a high-quality, powerful commercial juice extractor, and the space and time to experiment. Cheers!
Adding a fresh juice program? Learn more about the FreshMark™ family of commercial juicers from Hamilton Beach Commercial.