When shopping for commercial blenders, most restaurant operators zoom in on three numbers: horsepower, capacity, and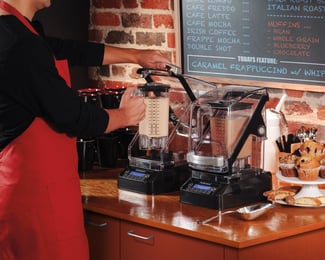 price. Those numbers are important… but they don't entirely address the needs of your business. To ensure you're buying the right model, look a little closer. The best commercial blenders on the market have these six features in common.
Controls your staff can easily use. A more elaborate control panel isn't necessarily better. It depends entirely on how you use the blender. Toggle or paddle controls, like on the classic 908® Bar Blender, are simple and durable, perfect for hands-on applications like blending margaritas. Touchpad controls, like on the EXPEDITOR™ 1100S Culinary Blender, free up cooks' hands and allow for precision in busy kitchens. High-volume establishments need full electronic controls, as found on the Summit® Blender, which also includes programmable drink cycles and patented Auto Blend sensor blending to deliver the perfect drink consistency.
A noise level customers won't notice. If you're frequently using a commercial blender behind the bar or in the front of the house, it's got to be quiet. Customers just don't want to shout or stop their conversations every time a drink is blending. Look for noise-reducing features like QuietBlend™ technology and the Quiet Shield™, a washable enclosure. Both are found on the Eclipse™, one of the quietest blenders in the world.
A serious warranty*. Many commercial blenders advertise a three-year warranty. But before you buy, read the fine print. Some companies' three-year warranty is actually split in two: one year covering parts and labor, then two years covering parts only. That means if the circuit board malfunctions, the company will mail you a new one — and good luck installing it yourself.
NSF certification:

More than a monogram, the NSF certification mark on a commercial blender mean that it meets the highest safety and sanitation standards.

These standards include

"requirements for material safety, to ensure the product will not leach harmful chemicals into food; design and construction, to ensure the product is cleanable and is not likely to harbor bacteria; and product performance."

A fan that won't quit. A commercial blender's motor is so powerful that it generates a lot of heat, which means that it needs an equally powerful cooling mechanism. Much of the noise associated with operating a blender actually comes from the fan pulling air through to cool the motor. Hamilton Beach Commercial tests its high-performance commercial blenders in a rain machine, in which salt water rains onto each piece of equipment for months as it cycles on and off, simulating the steamiest, toughest kitchen conditions. Our commercial blenders just keep on blending — and the fans keep on spinning.
High-quality jars. In a restaurant setting, all blender jars eventually fail. Ice crazes and scratches the sides. Detergents cloud the polycarbonate and, over time, damage the seal. Some companies include two jars with each commercial blender sold, which seems like a good solution. But these lower-quality jars simply don't last as long. (That's why they give you two!) When you're buying a high-performance commercial blender, look for durable jars that last at least a year, instead of cheap ones that need to be replaced every four months. Stackable jars save kitchen space.


*
Hamilton Beach Commercial® goes a few steps further with our warranty and service:
The Quantum® 950 Blender includes a 7-year motor warranty, the best in the industry. Its brushless Endura™ Motor Technology is so durable that a Quantum® has been blending nonstop in our offices since June 8, 2018.
The Quantum® also includes an overall 3-year warranty on parts and labor, as do other high-performance blenders from Hamilton Beach Commercial.
On our other high-performance culinary and drink blenders, the stainless steel blade and motor drive coupling have a lifetime warranty.
Our Express Care service (U.S. only) lets you ship back malfunctioning equipment and then provides a replacement — free of charge — so your kitchen can keep humming while your blender's being repaired.
Discover Hamilton Beach Commercial's full line of blenders, including high-performance drink blenders and powerful culinary blenders.