Is this the year consumers finally start saying no to sugar? We're learning that sugar hooks our brains; pummels our livers; swells our bellies; and accelerates aging, among other effects. Ugh.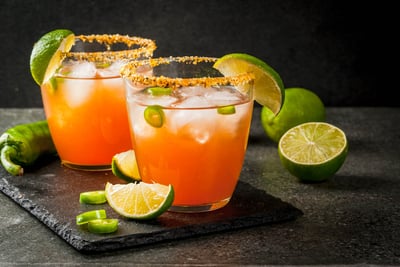 Unsurprisingly, interest in low-sugar cocktails has been rising. Mixologists are turning away from fruity syrups and sweet juices and instead experimenting with savory flavors. During a recent visit to Longoven, the celebrated restaurant in Richmond, Virginia, sweet cocktails were notably absent from the menu. In their place were drinks flavored with ingredients like smoked ice, juniper, Chinese shawo fruit (which is actually a radish), coconut oil and coconut water, kombucha and prickly pear.
Is your mouth watering yet? We take a look at some savory alcoholic drinks that don't need sugar to be delicious.
1. Umami Cocktails
Umami means more than simply "savory" — it's the harmonious flavor symphony that arises from foods containing glutamic acid, such as beef, bacon, mushrooms, miso, or seaweed. Umami cocktails may not be to everyone's liking, but they're always intriguing. The Severed Anchor at Neta in New York City is made with smoky Suntory Hakushu whiskey infused with bonito flakes (dried, fermented tuna) and mixed with Bushmills and sake. Too much? Here's a lighter take on an umami cocktail: mushroom-infused bourbon with mirin, black pepper, and lemon juice at Kuro in Hollywood, Florida.
2. Herbal Cocktails
"To infuse drinks with herbs, the only tool you'll need is a blender," Eater advises. Demario Wallace, the bar manager at Aziza in Atlanta, likes to blend herbs with chilled vermouth. Let the vermouth rest, and then strain. A high-performance commercial blender gives you perfectly consistent results.
Another effective — and fast — way to add fresh herbal flavors is by using a commercial vacuum chamber sealer, like the PrimaVac™ line from Hamilton Beach Commercial. When the air is removed from a simple syrup mixture, it can be heated sous vide to infuse delicate, fresh ingredients like chamomile, mint, lavender, lemongrass or tarragon. Read more about making sous vide-infused cocktails.
3. Fermented Cocktails
Pickle-juice cocktails are having a moment, whether made with pickle-flavored liquor or the salty brine itself. But the classic cucumber pickle is just one facet of the fermentation trend. Bartenders are pickling other vegetables, like beets and watermelon rind. You've undoubtedly seen kombucha on the cocktail menu, but what about koji? This humble fungus is used to make sake and miso. Ryan Chetiyawardana used it to add floral notes to the Scotch-based Koji Hardshake at his legendary (now closed) Dandelyan bar in London.
4. Spicy Cocktails
The simplest way to add heat to a cocktail is by adding some fresh hot peppers to the mix. Just be aware that the heat level depends on the intensity of the pepper and the process. Shaking a few jalapeno slices with ice results in a pleasant spiciness. Blending a whole habanero might result in a tongue-searing drink.
Remember: "A cocktail is like a bowl of gumbo: You want to be able to taste all the elements, not just heat," said Ryan Iriarte of New Orleans' High Hat. He likes Tabasco sauce, which adds vinegary notes. You may need a tiny touch of sweetness to balance the heat. Check out Belle Isle Honey Habanero Moonshine, which is made in Virginia, near Hamilton Beach Commercial's headquarters.
5. Food-Inspired Cocktails
Southerners love beer, bourbon and barbecue — and to celebrate those three Bs, a bartending duo made a cocktail that combines bourbon, Hefeweizen, honey liqueur and barbecue sauce. Wincing a little at the BBQ sauce? For some more elegant foodie drinks, just spin the globe and try Thai flavors instead. The Tom Yum on a Rock, from the luxury Six Senses resort on Koh Yao Noi, is a cold, fresh take on the classic soup that includes makrut lime leaf, lemongrass, lime juice, vodka and Cointreau.
For a salty, complex concoction, see Hanoi bartender Pham Tien Tiep. He invented the pho cocktail as his entry in the 2012 Diageo Reserve World Class competition — and it's much more than simply adding alcohol to broth. With an open flame, he heats gin and Cointreau with cinnamon, anise and cardamom, the serves the infused mixture over ice with a cinnamon stick, cilantro, chili and lime.
Discover Hamilton Beach Commercial's full line of innovative, durable equipment for bars and cafés.