An Artichoke Negroni that combines the delicate flavor of baby artichokes with gin.
Bourbon that tastes like smoked cinnamon.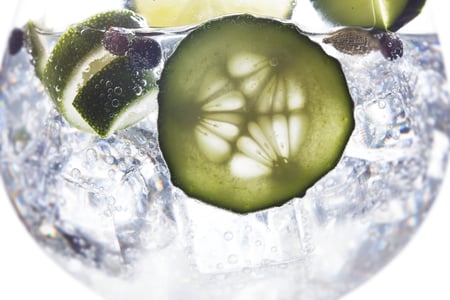 Maker's Mark flavored with roasted black sesame seeds and sesame oil.
Imagination is the only limit when you're creating infused cocktails — that, and the time it takes to develop the flavors. But there is a way to heighten flavor and cut the time required from days to hours: a vacuum chamber sealer.
The original infusion method: Steeping
The classic way to create an infusion is simply steeping ingredients in liquor. Light liquors — vodka, gin, light rum — are most often used, but you can infuse any type of spirit as long as the addition complements its natural flavors. Gin infusions are most often herbal or vegetal in nature; think cucumber, green tea, rhubarb. Bourbon prefers heartier, sweeter ingredients: "If you would throw it on your oatmeal at breakfast, it'll probably taste good infused with bourbon," says Philadelphia bartender Kyle Darrow.
You can use Mason jars, glass jars, or, for an eye-catching display at the bar, a specially designed infusion jar with a spigot and stand. Mixologist and cocktail consultant Colleen Graham recommends shaking the mixture three to five times each day while it's infusing, a process that usually takes three to five days.
The length of time for making infused liquor varies according to the potency of the ingredients. Tea and hot peppers require only an hour or two, according to Proof; any longer, and your infusion will be much too strong. Spices and citrus (just the zest; the pith will make your infusion bitter) can be left to steep for one to three days; other fruits may take up to a week.
Filtration is the last, all-important step. A jar of infused liquor may look pretty with fruit or herbs floating in it, but leaving organic materials soaking for a long time can produce off-flavors or even mold. Coffee filters or cheesecloth work well for filtering.
A better liquor infusion method: vacuum sealing
The biggest obstacle to successful liquor infusions is time. Busy bartenders may not have the patience to experiment with infused drinks if they must wait five days, sample their creation, adjust the recipe, then wait another five days. A faster and more precise infusion can be created with a commercial vacuum chamber sealer, like the PrimaVac™ line from Hamilton Beach Commercial.
A vacuum chamber sealer removes the air from ingredients packaged in food-grade plastic. The airtight package can be left as is, or can be gently heated in a water bath (a.k.a. "sous vide") to accelerate the infusing process. Flavors are extracted more rapidly, the process is made consistent, and the flavors remain fresh and bright. "So, for example, instead of sipping on what tastes like notes of cooked fruit, those flavor profiles tastes more like notes of freshly picked fruit," Tales of the Cocktail explains.
Best of all, an infusion may take only hours, not days. A traditional method for making limoncello, for example, requires steeping lemon peels in grain alcohol or vodka for up to two weeks, followed by a resting period of a month. With the sous vide version, it's ready in two hours.
Just remember to keep the temperature low. Alcohol evaporates at 173 degrees, and the pressure of the vapor can pop the bag. Try to eliminate all air from the bag before heating a liquor infusion sous vide.
Infusing simple syrups
Another way to add garden-fresh flavors to a cocktail — or mocktail, or dessert — is by infusing simple syrups. The vacuum-sealing and sous vide process is perfectly suited to making simple syrups with delicate flavors: rose, lavender, mint, chamomile, celery, tarragon, lemongrass or fresh berries. Another advantage is ease of storage, Chef Andrew Manning of acclaimed Richmond restaurant Longoven tells Hamilton Beach Commercial. A vacuum-sealed package of simple syrup is much easier to use and store than a large, sticky container.
And don't forget about the garnishes! Bartender Josh Berner used sous vide to make the "ultimate cocktail onion," flavored with white wine, vinegar, and sage.
Infusions are just one of the many ways chefs and bartenders can use the PrimaVac™ vacuum chamber sealer. Discover the possibilities in a new Hamilton Beach Commercial eBook: "More Flavor, More Life™: 28 Inspired Applications for a Vacuum Chamber Sealer."