Healthy milkshake? It sounds like an oxymoron. But that's exactly what Subway offered in summer 2019 with an exclusive partnership with Halo Top Creamery: a line of hand-spun milkshakes that customers could feel good about ordering. The shakes, each with 350 calories or less, contain at least 20 grams of protein and a hefty helping of calcium.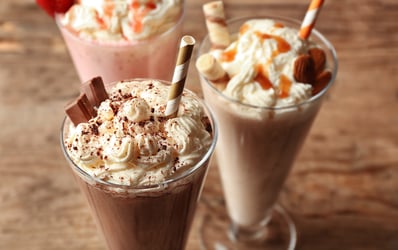 The Halo Top milkshakes were a limited-time offering, tested in just 1,000 stores. The jury's still out on whether the chain will make them a permanent addition to the menu — but in the meantime, we're seeing a growing interest in milkshakes among fast-casual and QSR restaurant operators. They're a high-dollar menu item with universal appeal, both as a meal add-on and a snack for the in-between dayparts.
Hamilton Beach Commercial dives deep into global milkshake trends: novel flavors, vegan shakes, fresh presentations and alcoholic kicks.
Milkshake Trends to Watch
Vegan milkshakes: Vegan frozen desserts are in demand. The global market for plant-based ice cream is expected to reach USD $3.4 billion by 2026, growing 9.5% per year, one report says. Burgerville, a fast casual chain in the northwest United States, partnered with ice cream maker Coconut Bliss to offer vegan versions of all its popular milkshakes. After just six months, the plant-based shakes made up over 10% of the chain's overall shake sales.
"Plant-based options provide inclusivity for consumers and can help widen a restaurant's customer base," Darcey Howard, Coconut Bliss director of marketing, told Fast Casual magazine. "Consumers are also willing to and expect to pay more for the solutions they seek." For example, California chain FatBurger charges USD $10-$11 for its vegan milkshakes. That's twice the cost of its dairy shake.
Real-ingredient milkshakes: Even when they're indulging in a treat, consumers prefer natural ingredients. We've seen this with southern U.S. chicken chain Chick-fil-A's summer peach shake, made with fresh fruit, which is a seasonal cult favorite. Burgerville is known for its long collaboration with local farmers to offer shakes made with Oregon strawberries, raspberries, and marionberries.
Sustainable presentation: A major milkshake trend in India is serving shakes in chilled glass bottles, which customers can take home and reuse. You'll find bottle shakes at chains like Keventers, which has revived a century-old Indian brand by offering flavors both traditional (rasmalai, kesar badam, gulkand) and modern (coffee, chocolate, hazelnut). "We strive to create products that are light, fresh and made with minimal ingredients," says Sohrab Sitaram, the company's CEO and Director. Keventers, which is eyeing expansion in the Middle East and North America, is further answering customers' demands for sustainability with paper straws and bamboo spoons.
Over-the-top milkshakes: The fun-and-frivolous, Instagrammable milkshake burst on the scene in 2015, the creation of a café in Canberra. New York City spot Black Tap Craft Burgers & Beer took the concept a step further with its $15 CrazyShakes: milkshakes topped with candy, cereal, cookies, whole slices of cake and more. Black Tap has gained momentum by expanding to markets in Singapore, Bahrain, Brussels and Zurich. Customers' appetite for piled-high milkshakes may not last forever, but operators can see that they're willing to pay for a fun and decadent treat.
Boozy milkshakes: Another high-value menu item is a spiked milkshake, such as the popular Bam-Boozled Shakes at Holsteins in Las Vegas. Concoctions such as the Knight Up (Canadian whisky, golden grahams, golden vanilla custard) and the Black Hole (Patron XO Café, black coffee chocolate cake, chocolate sauce) are priced at $15. The only downside: We can't imagine ordering more than one.
Milkshakes are a simple, profitable addition to any menu lineup. All you need are high-quality ingredients and a reliable commercial drink mixer or high-performance blender. Options include:
Explore Hamilton Beach's full lineup of milkshake and frozen treat mixers.