Sometimes, action is the best relief for grief. When Jeremy Lefkovits' beloved mother Andi was diagnosed with a rare cancer in 2009, she sought natural healing through raw superfood nutrition in addition to conventional medicine. Andi lost her battle with cancer, but Jeremy and his wife, M'Lee, found their calling: growing organic wheatgrass and sprouts.
In 2012, M'Lee and Jeremy left their high-paying corporate jobs to found Andi's Way, a small farming operation outside of Atlanta, Ga. "There was no guarantee of success," Jeremy says, but the couple's commitment to quality and stringent safety standards won them a loyal following.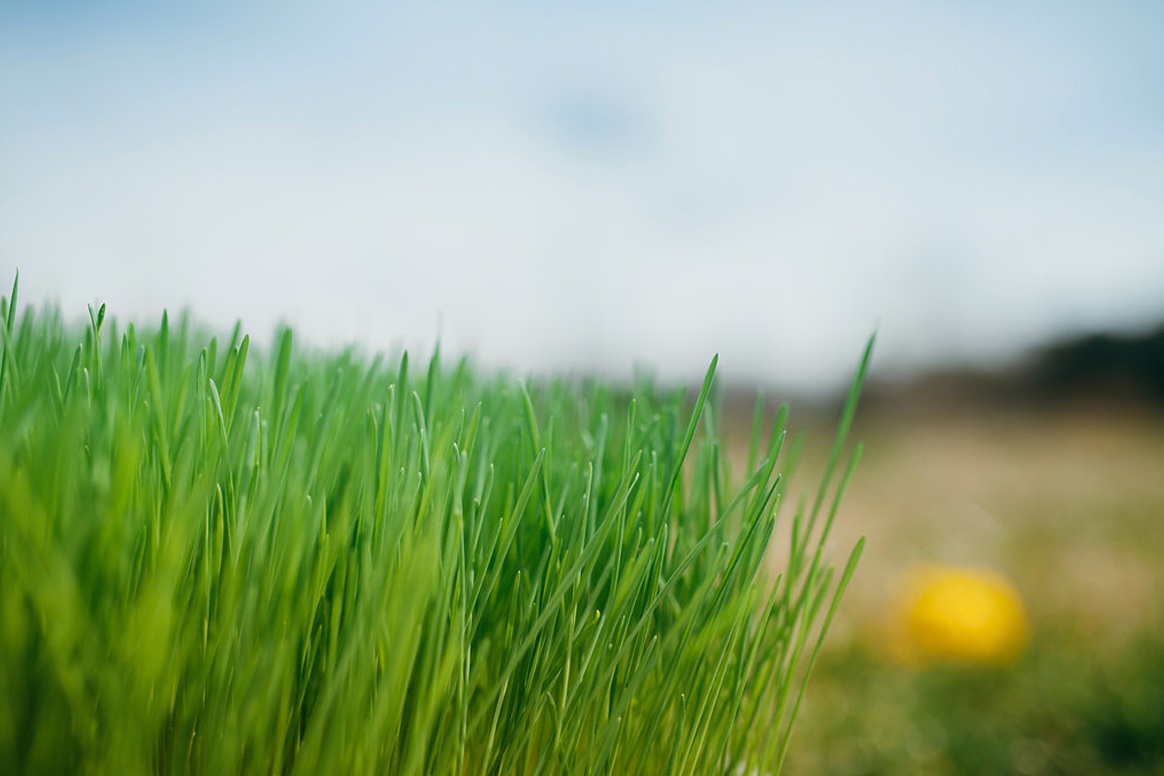 Andi's Way now has customers in 27 states, including juice bars, health food stores and Whole Foods. They've also helped Hamilton Beach Commercial perfect our commercial wheatgrass juicer.
Here's what the Lefkovits have learned in their five years running the business.
When you have passion for your product, you can command the market.
A 2-oz. shot of wheatgrass juice, freshly squeezed, delivers the nutrient equivalent of eating five pounds of greens, Jeremy says. Another nutrition powerhouse: the sunflower and pea sprouts Andi's Way grows. An 8-oz. bag of sunflower greens contains the protein equivalent of two-and-a-half T-bone steaks according to Jeremy.
In the Southeast, there was limited awareness of the benefits of these foods. Yet the couple believed so passionately in their product that they knew there was unmet demand, and they were right. In five years, Jeremy says, they've seen incredible growth.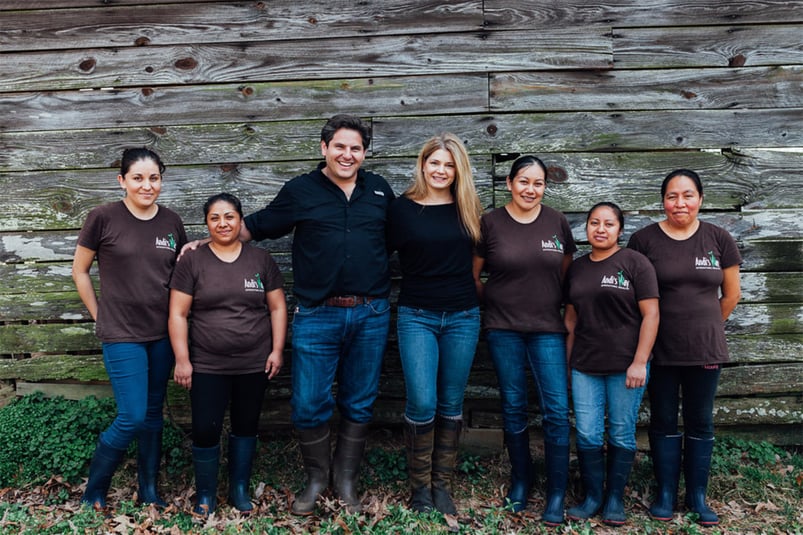 The Andi's Way Team - all images courtesy of Andi's Way
Product quality always comes first.
Jeremy is the first to admit that nobody drinks wheatgrass because it tastes great. Some people describe the flavor as akin to lawn clippings. And "if you drink a shot of low-quality wheatgrass, you feel a little queasy afterward," he says.
Andi's Way wheatgrass is different. "People ask us if we grow with sugar in the soil, to make it taste so sweet," Jeremy says with a laugh. It's no accident that their wheatgrass has superior flavor; the secret is in their growing methods.
Wheatgrass sprouts just fine in cheap soil or in hydroponic environments. And many growers use artificial lighting, which can make the grass taste bitter and peppery, Jeremy explains. But the Lefkovits refused to take shortcuts.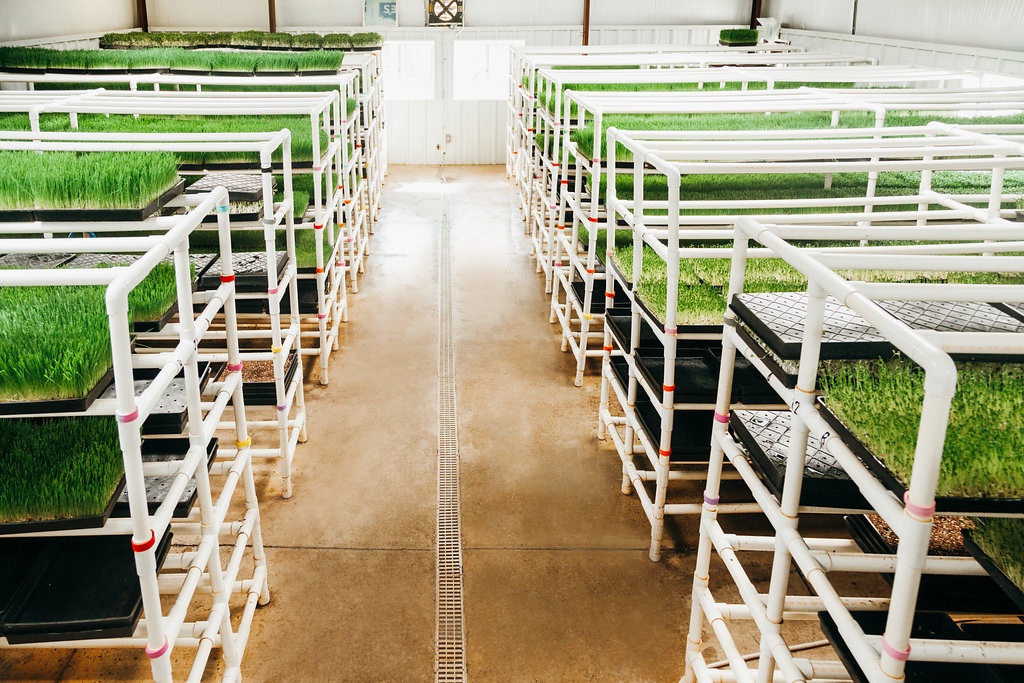 Andi's Way grows its wheatgrass in a controlled indoor environment with three ingredients: a manure-free, nutrient-dense compost blend; natural sunlight that streams through windows and skylights; and UV-treated well water. The result is lush, bright green, sweet-tasting wheatgrass.
Find partners who share your commitment to quality.
Erin Eddy, the East Coast Division Manager for Commercial Foodservice at Hamilton Beach Brands, needed some high-quality wheatgrass to demonstrate the company's new commercial wheatgrass juicer. She ordered some from Andi's Way and loved it, sparking a relationship between Andi's Way and Hamilton Beach Commercial. Erin visited the farm to learn more about wheatgrass cultivation, and the Lefkovits are working with HBC to provide them with feedback and product recommendations to further enhance the features of the unit.
"It's well made," Jeremy says of the HWG800 commercial wheatgrass juicer: machined properly, easy to clean and made to last, with a good juice yield. "There are more expensive units that are nowhere near as good."
In organic farming, food safety is paramount.
Running an organic wheatgrass and sprout farm is a scientific, highly regulated operation. Small farmers are exempt from the monitoring and inspection required by the federal Food Safety Modernization Act (FSMA). In order to become a successful business, however, Andi's Way had to assure customers that its products were 100 percent safe. Andi's Way operates with the same food-safety standards as major food production facilities, "but we don't have a team of food safety specialists," Jeremy explains. "We are the food safety specialists."
That means doing an enormous amount of testing, he says. All their products, as well as their water, soil blend and seeds, are regularly tested by a lab. Every week, they swab the floors, ceilings, cutting tables and other surfaces and test those for contamination as well. Once a year, Andi's Way undergoes a rigorous Food Safety and HACCP audit. The work, and the record-keeping, is constant. But it's worth it; because the company maintains such strict safety standards, they've become a trusted supplier of wheatgrass for Whole Foods.
Dreaming of making a leap like the Lefkovits? Jeremy's advice is simple: "Do what you're passionate about, and do the best you can. There will be easy days and not so easy days." And share your success story with us!