Who doesn't love a pop-up cocktail bar? They build buzz. They boost sales during slow days or seasons. And, with themes as diverse as Christmas and cherry blossoms, they're fun and endlessly inventive.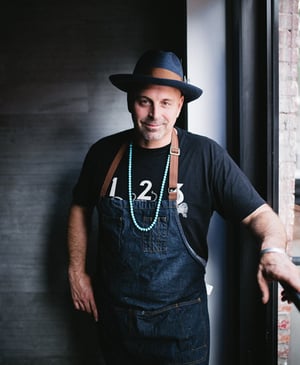 But they're not easy to execute successfully. Just ask cocktail chef Matthew Biancaniello, founder of Eat Your Drink and "LA's most inventive barman," as Eater LA has dubbed him. We asked Biancaniello what he's learned in five years of running innovative pop-ups and bar residencies — here's what he told us.
Meet Matthew Biancaniello
Biancaniello first made a name for himself at the Library Bar inside Los Angeles' Roosevelt Hotel. Hired with no previous bartending experience, Biancaniello replaced the standard drink menu with a novel bar program centered on fresh produce. He partnered with local farms, shopped at farmer's markets and infused liquors with herbs and spices to create culinary cocktails. (For an introduction to the world of farm-to-glass culinary cocktails, read his book Eat Your Drink.)
Biancaniello opened his first pop-up cocktail bar in 2014 at Cliff's Edge in Silver Lake, on Sunset Boulevard. The space was gorgeous, on a patio shaded by a huge tree, but at the time, there were no working bar fixtures. "I felt like I was catering all over again," he says.
Nevertheless, the Wednesday-night pop-up — a day chosen so Biancaniello could buy the freshest possible ingredients at the nearby farmer's market — was a huge success. "Fresh herbs and produce create complex yet balanced flavors. Plus, the drinks are gorgeous with their electric hues and artful garnishes—maybe a sprig of lavender or some yellow raspberries," raved Conde Nast Traveler.
His next venture was a summer-long, ocean-inspired pop-up bar at the Fat Dog in North Hollywood. Biancaniello also partnered with Chef Roberto Cortez to pair cocktails with one-of-a-kind dining installations served in gallery spaces in various cities. In 2018, he launched a pop-up at West Hollywood's Ysabel.
Every time, his creations drew big crowds. But things didn't always go smoothly. Here's Biancaniello's best advice for any bar owner considering a pop-up.
Be original. "I think that the most important thing is to do something that the rest doesn't already do," Biancaniello says. He recently has taken an omakase approach to crafting cocktails. Just like an artist, he mixes his own "paints" — infusions, liquors, condiments and garnishes — and then creates drinks on the fly. Recent creations have included a Cambodian peppercorn-infused mezcal; vodka infused with grape leaves ("the greatest flavor ever"); and warm, alcoholic, smoked tomato consommé. "There's really no end to it. There's always more to do," he says.
Publicize an end date. The draw of a pop-up bar is getting to experience something unique that will never be repeated. "People feel that they have to get there before it's gone," Biancaniello says. However, be sure to allow your pop-up time to build buzz, he advises: "Even with me, with my reputation, it used to take two or three weeks, sometimes."
Don't let guest mixologists get overwhelmed. At Biancaniello's first Cliff's Edge pop-up, customers would crowd in to talk to him as he worked behind the bar. "And I noticed that people would stop coming, because they couldn't get my time and attention," he says. When he returned to Cliff's Edge for a second pop-up stint, he assigned trusted staff to mix the drinks while he walked around to visit each table. "That was very profound. Because now I was able to sell a lot of drinks, have that personal connection with everybody… and achieve what I wanted to achieve."
Give your pop-up bartender the support they need. Biancaniello's series at Ysabel was supposed to last 12 weeks, but it became so wildly popular that he extended it to 37. Part of the reason for its success, he says, is that the GM checked in constantly to make sure he had everything he required: "They already had a fresh juice program. They already had a fresh ice program. All these things that I would fight for," he says, were already in place.
Do something different every week. To maintain a high level of excitement about your pop-up, it's essential to keep surprising customers. At Ysabel, many fans returned every week, lingering for hours to watch the master cocktail chef at work.
Biancaniello saw his pop-ups as opportunities to try wild flavor combinations that he could then repeat or refine in another setting, such as the 12-person, 12-course liquid tasting menu he offered at Mon Li, an exclusive oceanfront spot at the Calamigos Beach Club in Malibu. LA greeted the opening of Mon Li in October 2018 with enthusiasm. Sadly, the Woolsey Fire's devastation forced Mon Li to close a few weeks later.
But you can still catch Biancaniello, if you're lucky, at special events and residencies in Los Angeles and around the United States. Follow him on Instagram (@eatyourdrink) to see where he'll pop up next.
Discover Hamilton Beach Commercial's innovative equipment solutions for bars and cafés, including bar blenders and high-performance blenders.