Consumerism and altruism are finally making friends. Consumers want to feel like their spending is doing good in the world, and retailers are obliging. Recently we've seen not just high-end stores, but traditional retailers like Safeway, Kroger and Ahold making serious commitments to fair-trade sourcing.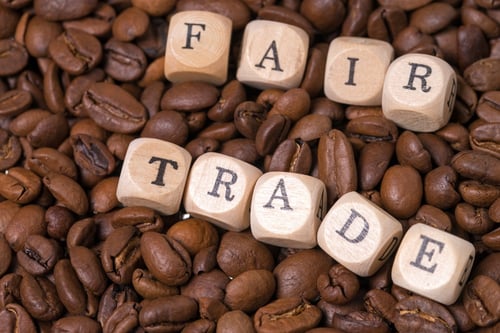 The hospitality and restaurant industries haven't quite followed suit, however. Hotels were pioneers in conservation efforts, introducing energy- and water-saving programs before almost anyone else, observes Jennifer Gallegos, director of coffee for Fair Trade USA. "But they have been very slow to embrace fair trade," she says. "Very slow." The reasons aren't clear, but she says foodservice research firm Technomic will soon be conducting a study to find out more. Is it time for hotel and restaurant companies to start using fair-trade coffee and other products? Here's some perspective.
What is fair trade, anyway?
When you see a product labeled "fair trade," that means the farmers or workers who produced it are being justly compensated. But those two words also mean a lot more. Fair trade signifies that workers enjoy safe labor conditions; that they sell their goods directly to importers, when possible, through democratically organized groups or cooperatives; that they use sustainable (although not necessarily organic) farming practices, and that they're investing in their community.
The term "fair trade" is used worldwide — and improperly used, some contend, to describe products that really don't qualify. "Fair Trade Certified" means that a nonprofit group, such as Fair Trade USA, has independently examined a company's supply chain to ensure its products are adhering to these standards. "With fair trade, the money you spend on day-to-day goods can improve an entire community's day-to-day lives," the group says.
But do consumers understand all this?
Yes and no. Consumer awareness has grown significantly in the last 10 years, Gallegos tells Hamilton Beach Commercial. About 55 percent of U.S. consumers are aware of the Fair Trade Certified™ label. She attributes this partially to the efforts of large national retailers who carry fair-trade products, such as Target, Dunkin' Donuts, Whole Foods and Sam's Club.
However, Gallegos says, "If you ask a consumer about their understanding, that's where it gets a little more complicated." In the early 2000s, people paid more attention to the plight of farmers in developing nations, she says, because coffee prices had plunged and farmers were starving. People bought fair-trade coffee as a way to help. However, Gallegos says, the public's attention has since shifted to other things, and "people tend to forget."
She has seen a recent uptick in public interest and awareness, thanks to companies such as West Elm, Patagonia and Honest Tea adopting fair-trade standards. They're bringing awareness to a new set of consumers, she says.
Why should hotels and restaurants serve fair-trade coffee?
Consumers are happy to pay for fair trade. A recent study from the University of Bonn found that people were willing to pay about 30 percent more for fair-trade products. Not only that, but they felt good about it: Researchers observed that reward-processing areas of the brain buzzed when subjects saw the Fair Trade logo.
Consumers perceive that fair-trade products taste better. The same study found that people rated the flavor of fair-trade chocolate much more highly than conventional chocolate. The kicker: Both pieces of chocolate were identical.
Fair trade isn't significantly more expensive and ensures that more money gets to the farmer. In late 2015, the minimum fair-trade price for arabica coffee was $1.40 per pound, plus a 20-cent fair-trade premium (and an additional 30 cents if organic). This minimum price is a safety net for farmers if the market price dips; if coffee is priced above $1.40, farmers earn the higher price.
Fair trade creates a more resilient supply chain. Coffee's a tough business, Gallegos says: Plants are susceptible to disease, most farmers are poor — and squeezed by large corporations — and younger generations are abandoning farms. "Investing in your supply is just smart business sense," she says. Buying only fair trade "means the coffee you're sourcing today has a better chance of being there 10 or 15 years from now."
Sustainability means more than "organic." As the incredible growth of the fast-casual sector attests, consumers want their food to be fresh, healthy and sustainable. And sustainable is not only about green farming practices and animal welfare, but about the living standards of the farmers. If consumers could see firsthand the difference fair-trade coffee makes, Gallegos says, "we would all be willing to pay 10 dollars for a cup."
If you have a fun or interesting story idea, please submit it here. The best stories will be developed and published on our blog to be distributed to the international HBC Community, with your name attached. A little publicity can always help to grow your business and awareness.