Dr. Thomas Campbell remembers how, in his medical-school days, he would make up for his poor eating habits by drinking a kale smoothie: "I put about 6 cups of raw, cleaned kale tightly packed in a mixer along with a little water and nothing else and made the ultimate green smoothie," he recalls. It was, unsurprisingly, awful: "It was like a grassy tasting slime, or perhaps cow cud."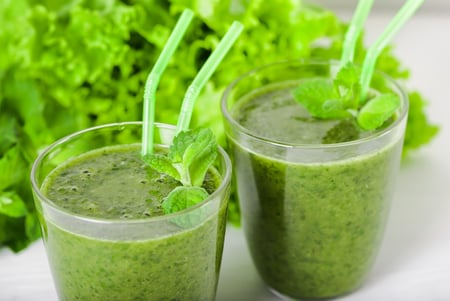 Adding fruit would have solved the flavor problem, but that can turn a veggie smoothie into a high-sugar beverage, notes Campbell, the medical director of the T. Colin Campbell Center for Nutrition Studies. A typical smoothie with spinach, strawberries, blueberries, a banana and orange juice might include 32 grams of sugar, he calculates.
Many sugar-conscious consumers want smoothies with no fruit at all. What's the secret to offering healthy, fruit-free smoothies that don't taste like a cow's breakfast? We'll tell you.
Magical ingredients for delicious no-fruit smoothies
Smoothie creators have perfected the art of surreptitiously slipping vegetables into the mix. Add a little cauliflower in with your strawberries, and no one will know. A handful of raspberries will hide the earthiness of spinach or kale. And a single ripe banana adds the sweetness and creamy texture that make a smoothie satisfying.
This alchemy gets a lot tougher when no fruit is involved. But it's not impossible! Here are some key ingredients for making satisfying, delicious and fruit-free smoothies. All you need is a high-performance blender.
How to add creaminess to fruit-free smoothies
Cauliflower is an innocuous vegetable that adds substance and fiber, but almost no taste, to a veggie smoothie. Some chefs recommend steaming it first; others prefer to keep it raw and freeze it.
Almond butter or sunflower butter are healthful additions that thicken a smoothie's consistency.
Technically, avocado is a fruit — a berry, to be exact. But with virtually no sugar and lots of unsaturated fat, we think it's fair to make an exception for avocados and add them to any fruit-free smoothie. Avocados can replace the creamy mouthfeel contributed by dairy.
Non-dairy milks, like almond or cashew milk, are a good choice for the liquid base.
How to add sweetness to fruit-free smoothies
Cooked sweet potato is a luscious smoothie ingredient that adds abundant vitamin A, fiber and potassium. Whole Foods Market has a fruit-free smoothie recipe with sweet potato, coconut milk, honey and nutmeg.
Another sweet and satisfying veggie is roasted butternut squash, which pairs beautifully with flavors like cinnamon and vanilla.
Coconut is a powerful ingredient in no-fruit smoothies, because it adds both creaminess and a hint of sweetness. It's on-trend, too; check out the one-ingredient smoothie at Atla in New York City, which blends fresh coconut meat and water.
How to add flavor to fruit-free smoothies
Serious Eats has some good advice for creating successful all-veggie smoothies: "embrace the greenness and balance the flavors as you would with a juice." Come up with a list of ingredients that would make a good salad or soup, then blend them together with a little salt and flavor boosters like these:
The zing of lemon juice counteracts the earthiness of raw greens. Lime juice, too, can be delicious.
Ginger's refreshing, piquant taste hits a high note in any fruit-free smoothie.
Tahini, the ground sesame paste that's most often associated with hummus, is a surprisingly satisfying addition to smoothies. It has a strong taste on its own, "but when placed alongside other smoothie ingredients, tahini acts like the perfect party guest: it mixes well without drawing any undue attention to itself," Epicurious says.
Fresh mint overpowers all kinds of flavors (in a perfectly polite way). We're fascinated by MindBodyGreen's Mint Chocolate Chip Smoothie, which combines cacao powder, almond milk and mint leaves with greens. It's not quite a milkshake, but it sounds pretty good.
What's your secret to creating crowd-pleasing, fruit-free smoothies? Share your smoothie recipe and we may feature it in a future post.