Psst. Want to see a magic trick?
In just 20 seconds, this ordinary blender will turn regular skim milk into silky, frothy cold foam. Amazing!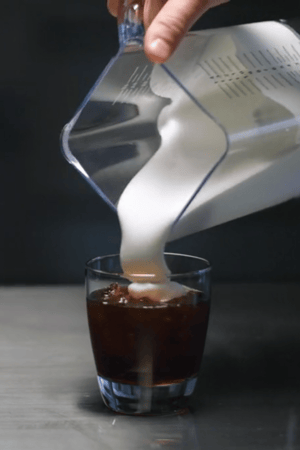 For our next trick, we'll combine some raspberries and heavy cream. Voilá: indulgent, flavored whipped cream — and yet the delicate berries haven't been smashed to pieces. How did we do it?
It's the magic of the AirWhip frothing jar. This innovative jar harnesses the power of a Hamilton Beach Commercial high-performance blender to rapidly foam, whip and emulsify while treating delicate ingredients with care. What can it do in your kitchen?
The secret of cold foam
In March 2019, Starbucks rolled out the Cloud Macchiato, a drink unlike any it had offered before. The Cloud Macchiato tops iced espresso with a thick layer of fluffy foam and a drizzle of caramel. It's luxurious, but not decadent; the foam is sweet, but not heavy.
The essential ingredient is cold foam made from milk, first introduced in Starbucks' Cold Foam Cascara Cold Brew and Cold Foam Blonde Iced Cappuccino. Cold foam complemented the chain's move to straw-free plastic lids, which allow customers to sip the topping. To achieve the stiff, meringue-like texture of the topping used in the Cloud Macchiato, Starbucks adds a proprietary mixture called "cloud powder" that's made with sugar, egg-white powder, arabic gum and other stabilizers.
As coffee shop companies and café owners soon discovered, it's not that easy to make cold foam.You can throw skim milk into a regular bladed blender jar, but it takes a while to make and the yield is low. One cup of skim milk produces only a modest amount of foam, and half the milk will be left in the jar. Here's the solution: Put the same milk in the AirWhip jar, and you'll get two cups of velvety foam.
The secret is the patent-pending, cone-shaped agitator at the base of the jar. Compared to disc-type agitators, it has more surface area, resulting in more rapid contact with the liquid. Combined with the Wave~Action® jar, the agitator does an incredibly efficient job of aerating liquid. The tiny bubbles that result produce a very fine-textured foam. It also can mix in sweeteners or flavoring, such as agave, honey or caramel.
Eight more uses for the AirWhip frothing jar
Budget-conscious restaurant operators love the AirWhip jar because it's a low-cost piece of equipment that's compatible with both Quantum® and Eclipse™ high-performance blenders. Of course, their number-one question is: Besides making cold foam, what else can it do? We're so glad you asked. Because the agitator has such a light touch with delicate ingredients, the AirWhip can:
Flavor water, liquors or other liquids with fruit, without crushing or blending the fruit itself.
Mix flavors into a sauce or emulsion without chopping the ingredients. Want a hint of rosemary or other herbs in a salad dressing or hollandaise? The AirWhip can do that.
Flavor oils with fresh ingredients. Need garlic-flavored oil without chunks of garlic — and don't have the time for a long steeping process? Done.
Make small batches of whipped cream with fresh flavors. The AirWhip takes just two minutes to whip cream. Need to make whipped cream that tastes like strawberry, blackberry, espresso, mint, cocoa, even orange blossom for special desserts or cocktails? The AirWhip can do it a la minute.
Rapidly chill a drink without crushing ice. Throw a cocktail or other drink into the AirWhip with ice. In just seconds, it'll be perfectly chilled — and the ice cubes will be intact.
Foam egg whites for cocktails. Classic cocktails like the whiskey sour or pisco sour demand a foam topping, but a perfectly frothed egg white isn't easy to achieve. Bartenders have tried various methods, such as the basic shake, the dry shake, and the reverse dry shake, but these require significant time and effort (not to mention arm muscle). The AirWhip does a flawless job in seconds.
Shake boba tea. Many tea shops invest hundreds, or even USD $1,000+ in a bubble tea shaker machine. These devices shake hot tea with ice and flavorings, creating the frothy texture that gives bubble tea its name. The AirWhip jar can do the same thing, for much less.
Make cheese-tea topping. Cheese tea is chilled green or black tea that's topped with a foamy mixture of milk and cream cheese and lightly sprinkled with salt. The AirWhip gives the topping a perfectly frothy texture.
Learn more about what the AirWhip frothing jar can do for your business. Or, discover Hamilton Beach Commercial's full line of innovative equipment for coffee and tea shops.