In cameras, it's megapixels. In stereo speakers, it's size. There are persistent myths in nearly every product category, and among buyers of high-performance commercial blenders the top myth equates horsepower and performance.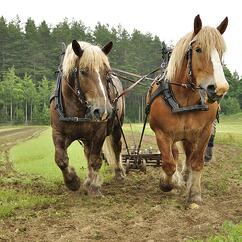 Myth #1: Horsepower = Performance
Without getting too bogged down in the science, it's useful to revisit what horsepower is intended to measure. One horsepower (HP) equals 746 watts. If a motor is rated as a true 1HP, it delivers 746 watts of mechanical power. But because most motors are never 100 percent efficient in converting electrical energy to mechanical energy, the amount of mechanical power delivered is usually lower than the electrical power consumed by the motor.
Hamilton Beach Commercial's Director of Global Marketing, Brian O'Flynn, who is also an engineer by background, offers this explanation: "The way horsepower is measured is really deceptive—sometimes a 1-horsepower blender performs better than a 4-horsepower blender. The reality is you should use the minimum amount of power to make a great drink in the smallest amount of time, otherwise you're generating excess heat and excess noise and you're wasting energy."
More importantly, horsepower isn't a good metric for evaluating the texture of the drink. Factors like the blade design and jar construction influence the blending action, too. Instead, look for the proof in the pudding—the blending. "We will do a blend-off so a customer can see the difference in texture and prep time, where we have an edge," O'Flynn says. Another important "metric" is separation time—the time it takes for a blended drink to separate from one homogeneous mixture into layers of, say, alcohol, water and fruit puree.
Myth #2: Quiet Performance = Unaffordable
Although horsepower is not the sole driver of performance, any higher horsepower performance blender that's not been specially designed to run quietly will generate a significant amount of noise. Much to the surprise and delight of many commercial customers, quiet blenders are now more affordable than they were even a few years ago.
There are innovative ways to minimize noise even in a high-horsepower blender, and one of the best involves using a kind of "dome of silence" like the QuietShield™ found in the Summit and Eclipse models by Hamilton Beach Commercial. Mounting the blender in counter, which the Eclipse is specifically designed for, can reduce noise even further while reducing the equipment's vertical footprint.
Download our Beverage Blender Decision Tree to make your choice easier
Myth #3: Price = Cost
It's not uncommon to use the words "price" and "cost" interchangeably, but with high-performance commercial blenders, price is one thing—the amount you pay once—and cost is another measure entirely. Cost, or what is often called "lifetime cost of ownership," takes into account such factors as durability, the price of necessary replacement parts, and business lost to downtime. Food waste, excessive labor and energy use are also important factors to consider when investing in any piece of commercial equipment. The important thing is to think about how much the amount saved today on a cheaper blender might end up costing over two, five, ten or twenty years, and then to make an investment that anticipates and lays the foundation for a long-lasting, successful business
If you have a fun or interesting story idea or drink recipe, please submit it here. The best stories and recipes will be published on our blog and distributed to the HBC Community, nationally and potentially internationally. Further, we will reference your name and establishment for bringing it to our attention. A little publicity can always help to grow your business and awareness.