People never seem to lose their thirst for smoothies. The global smoothie market is expected to grow at a CAGR of 6.8% until 2023, according to Mordor Intelligence, driven by the demand for healthy, quick meal replacements.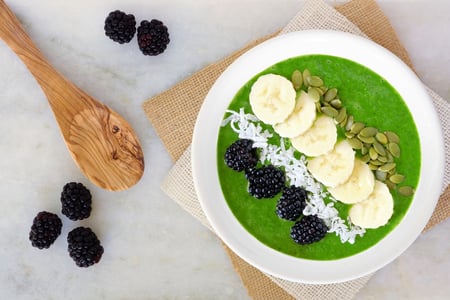 On the surface, a smoothie seems like the easiest possible addition to a café menu. Fruit, ice, blend, pour. Right? Not quite. There's an art to making smoothies that will win over customers and keep them coming back for more.
Start with the right blender.
The secret to making a good smoothie is right there in the name: It's got to be smooth, with no lumps, ice chunks or gritty powders. To achieve a super-creamy drink profile, you need a high-performance blender. Ordinary culinary blenders can puree just fine, but they aren't designed to make drinks. Bar blenders can power through ice for a tasty margarita, but that's not quite the texture desired for a smoothie.
With efficient Wave~Action blending, Hamilton Beach Commercial® high-performance blenders are famous for creating velvety-smooth drinks. And in busy smoothie shops, they keep their cool. We've been livestreaming a Quantum® High-Performance Blender at our headquarters since June 8, 2018, and it keeps happily blending away.
Balance flavors and textures.
Making the perfect smoothie is all about balance. It should be creamy but not heavy; sweet but not cloying; healthy-tasting but not too vegetal or bland.
Texture: Banana (especially frozen banana) is a simple way to achieve creaminess. Yogurt, avocado, nut and seed butters, and coconut add that satisfying mouthfeel as well. Oats, whether raw or cooked, are another option. But beware of blueberries, which contain natural pectin that can over-thicken a smoothie.
Sweetness: Even the healthiest smoothie needs a hint of sweetness. Fruit-free smoothies can be sweetened with cooked sweet potato or butternut squash. Acidic citrus, like lemon or lime, is the perfect counterpoint to sweet ingredients.
Zing: If the taste is forgettable, liven up the cup with strong-tasting ingredients, such as mint, ginger, or spices. If your smoothie tastes watery, try using frozen fruit in place of ice.
Don't forget visual appeal.
Strawberry and spinach are best friends in a salad. Blended together in a smoothie, however, they turn a heinous shade of brown. Try to avoid combining greens with red fruits. Instead, choose ingredients in the same color family: yellows and greens, or reds and oranges. Dragonfruit can make a stunning magenta smoothie. Swirled layers of color are always gorgeous. And cold foam is a low-calorie topping that adds a lush touch.
Layer ingredients in the correct order.
It seems intuitive to put the ice in first, to ensure good contact with the blades, but you should actually do the opposite. The right way to add smoothie ingredients to a blender jar is (in order, from bottom to top)
Liquid
Sweeteners, powders or other active ingredients
Leafy greens
Creamy ingredients (like nut butters)
Fruits and nuts
Ice and frozen fruit
Adding the liquid first makes it easy for the blades to pull down and puree the other ingredients to an ideal consistency.
Give each smoothie a purpose.
For years, Smoothie King organized its menu by flavor: strawberry, cherry, etc. Then, CEO Wan Kim oversaw a clean-ingredient initiative that also reconcepted the menu by purpose: Fitness, Slim, Wellness and Take a Break. "We believe everybody wants to live a healthier lifestyle, but that means different things to different people," he told Nation's Restaurant News.
Functional ingredients such as açaí, charcoal, ginseng, and ashwaganda continue to be popular mix-ins. Whatever your customers are looking for — energy, wellness, or just a mid-day snack — help them see how their smoothie can support that goal.
Discover the full line of Hamilton Beach Commercial equipment for smoothie shops, from high-performance blenders to durable juicers.