Hamilton Beach Commercial has been working with the Dairy Queen® system to develop an automated, hands-free mixer for the iconic BLIZZARD® frozen treat. Today, we're proud to announce that American Dairy Queen Corp. has recognized Hamilton Beach Commercial as its 2018 Equipment Supplier of the Year.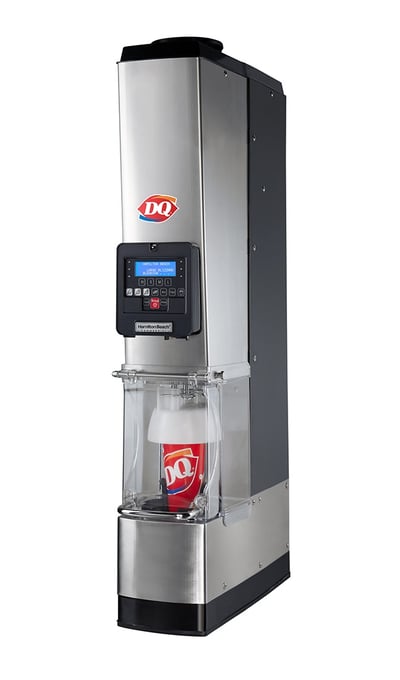 "They've done for us what we hope all vendors will do for us in the future," the Executive Vice President-Strategic Initiatives for American Dairy Queen Corp. noted during the awards presentation at its annual Supplier Summit. "Through diligent development and testing, they brought…innovation and technology to our restaurant production core, on a product that is really, really important to our system."
How Collaboration Leads to Creative Innovation
Hamilton Beach Commercial is known for innovative products found in hotels, restaurants, and bars worldwide. But our innovations don't come only from within our engineering and product testing labs; they also arise from our close partnerships with the biggest names in foodservice and hospitality. We want to help our customers find smart solutions to their unique challenges — just as we did with for the Dairy Queen system.
The SmartServe™ Blend-in-Cup, which offers hands-free operation, optimized mixing and automated rinsing, had the potential to solve operational challenges and improve crew member efficiency. The answer was found in a customized solution we now call the Hands-Free Blizzard® Machine.
The Hamilton Beach Commercial Way: Continuous, Thoughtful Improvement
Hamilton Beach Commercial's engineering and product development teams went to work, knowing the mission was major. "We were trying to ensure quality on the most important menu item in the DQ® system," says Ann Marie Blackmon, Key Account Manager for Hamilton Beach Commercial. "We recognized how important it was to develop equipment that would fit their requirements and deliver a great Blizzard® to DQ Fans."
We developed the Hands-Free Blizzard® Machine, a modified version of the SmartServe™ Blend-in-Cup. The redesigned mixer went through extensive field testing at DQ locations. At every stage, feedback from the field testers drove continuous improvement. Based on those users' daily experiences, the equipment was optimized to get to the final design, launched in Q2 2018.
"The Hamilton Beach Commercial way to launch something new is a very thoughtful, careful approach," Blackmon explains.
This approach paid off. Not only did franchisees report that the Hands-Free Blizzard® Machine achieved the operational and efficiency goals, but they discovered it had other benefits as well. Dairy Queen operators told us the Hands-Free Blizzard® Machine improved store cleanliness and significantly reduced noise in their restaurants. The bottom line? For the DQ system, happy fans. For HBC, selection as the 2018 Equipment Supplier of the Year.
We are honored to be recognized by American Dairy Queen Corp. Most importantly, we're proud to share DQ's values: customer focus, innovation, partnership, tenacity and quality.
Interested in learning more about how Hamilton Beach Commercial can partner with your business? Get more information here.