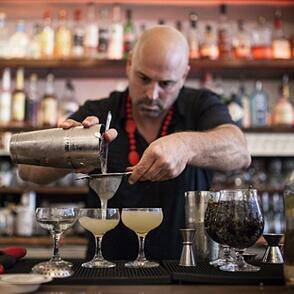 Los Angeles mixologist Matthew Biancaniello (left) has perfected the art of combining fresh herbs and produce with liquor to make garden-crisp cocktails. Through his company, Eat Your Drink, he now serves as a consultant and bartender for high-profile clients. He shared one of his locavore drink recipes, the Roquette, which he describes as a cross between an arugula gimlet and a gin mojito.
The Roquette
Recipe courtesy of Matthew Biancaniello
Ingredients:
2 ounces gin (preferably CapRock)
3/4 ounce lime juice
3/4 ounce agave syrup (1:1, agave:water)
1 cup arugula (preferably wild and local)
Glassware: coupe or rocks

Instructions:
In a mixing glass, muddle arugula with lime juice and agave syrup. Add gin and ice, and shake until well chilled. Strain (or double strain) into a chilled coupe or cocktail glass, or a rocks glass over ice. Makes one serving.
If you have a fun or interesting story idea or drink recipe, please submit it here. The best stories and recipes will be published on our blog and distributed to the HBC Community, nationally and potentially internationally. Further, we will reference your name and establishment for bringing it to our attention. A little publicity can always help to grow your business and awareness.