While we know that not everyone around the world follows the National Football League (NFL) here in the States, we have enough U.S.-based subscribers that we thought the week before the Conference Championships would be the perfect time to share a recipe for that tried-and-true fan favorite, Buffalo Chicken Wings.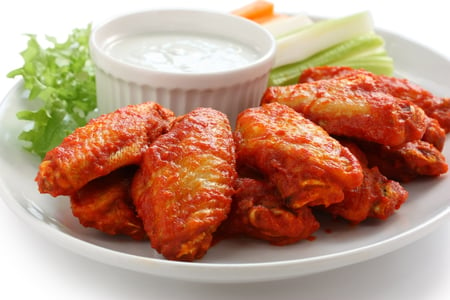 The original recipe calls for deep-fried chicken wings, but in this healthier version they are baked. Serve hot from the oven with celery sticks and Blue Cheese Dip made with yogurt and sour cream. Try them for your next party!
Buffalo Chicken Wings
(Source:California Culinary Academy)
Ingredients:
2 Tbsp. melted butter
4 Tbsp. Tabasco® Sauce
2 Tbsp. rice vinegar
30 chicken wings or drummettes
Paprika for dusting
Lettuce leaves for lining platter
Celery sticks for accompaniment
Instructions:
Preheat oven to 350° F. Mix together butter, Tabasco, and vinegar. Dip chicken into mixture, then place on a lightly oiled baking sheet. Dust with paprika. Bake chicken until crisp and brown (about 30 minutes). To serve, arrange chicken on a platter lined with lettuce leaves. Set a bowl of Blue Cheese Dip in the center and celery sticks on the side.
Do you have a recipe you'd like to share? Send it our way, and we will publish it right here!