Here is a variation on the classic piña colada that substitutes banana for the pineapple in the standard recipe. Another star here is the cream of coconut; a canned mixture of coconut milk, sugar, and other ingredients is used as a flavoring for tropical drinks and desserts.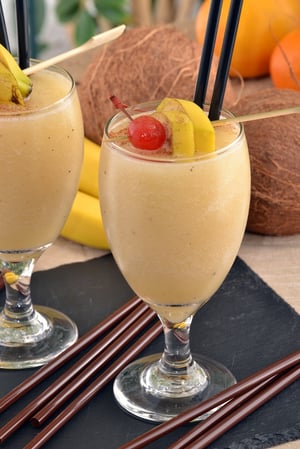 Perhaps this recipe will finally knock the Kahlua® Colada off its throne as the most popular blog post!
Banana Colada
(Source: Hamilton Beach Commercial, in collaboration with Bartender Magazine)
Ingredients:
5 oz. rum
2 tsp. lime juice
6 oz. cream of coconut
3 bananas
3 cups ice cubes
Instructions:
Add ingredients to your high-performance blender in the order listed. Remember -- when blending frozen drinks, always put liquid ingredients in the jar first. Then add your solid ingredients, such as fruit and ice, for best results. Blend until you reach your desired consistency and enjoy your cool creation.
Also, if you have a fun or interesting drink recipe, please submit it here. The best stories and recipes will be published on our blog and distributed to the HBC Community, nationally and potentially internationally. Further, we will reference your name and establishment for bringing it to our attention. A little publicity can always help to grow your business and awareness.