Switch up your coffee offering with this variation on a classic blended espresso drink. Strawberries and whole milk combine with espresso to brighten up the palate. Add this to your menu and let us know how it goes...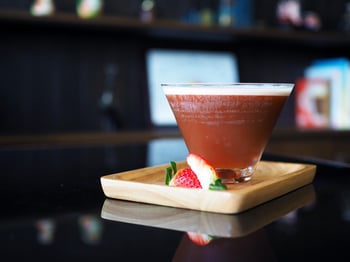 Strawberry Espresso
(Recipe courtesy of the Coffee Development Group)

Ingredients:
9 oz. espresso
12 oz. whole milk
6 Tbsp. sugar
12 frozen strawberries
1½ cups ice cubes
Instructions:
When blending frozen drinks, always put liquid ingredients in the jar of your high performance blender first. Follow by adding solid ingredients such as fruit and ice, blend for a few seconds, and enjoy your cool creation.
If you have a fun or interesting drink recipe, please submit it here. The best stories and recipes will be published on our blog and distributed to the HBC Community, nationally and potentially internationally. Further, we will reference your name and establishment for bringing it to our attention. A little publicity can always help to grow your business and awareness.