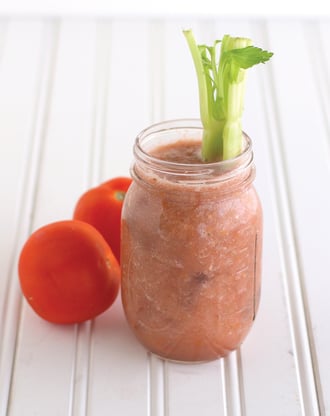 Looking for another way to get some veggies in your diet? Try this recipe -- tomato juice with a serious kick from wasabi powder and siling labuyo pepper.
Don't have any siling labuyo peppers on hand? Any pepper that fits your spiciness preference will do.
Spicy Tomato Juice
Ingredients:
120 ml/ 4 oz water
2 ripe tomatoes, cored
2 ribs celery, with leaves
1 tsp wasabi powder (add more to taste)
1/2 lemon, peeled and pith removed
1/2 siling loyuba chili pepper (or any mild to spicy pepper)
pinch salt
dash pepper
Instructions:
Place ingredients into a high-performance commercial blender in the order listed. Blend until smooth. The beverage is done when the consistency meets your specifications.
If you have a fun or interesting drink recipe, please submit it here. The best stories and recipes will be published on our blog and distributed to the HBC Community, nationally and potentially internationally. Further, we will reference your name and establishment for bringing it to our attention. A little publicity can always help to grow your business and awareness.