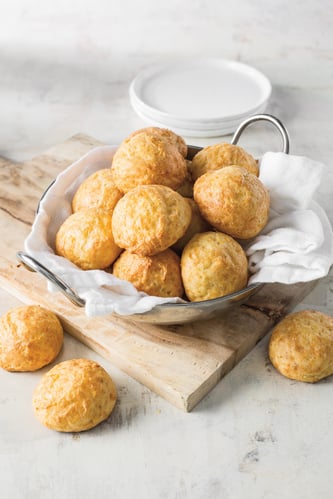 French in origin, gougères are airy pockets of pastry with a delightfully salty and cheesy bite. They are the perfect appetizers because it's nearly impossible to eat just one.
This recipe is a great match for the CPM800 stand mixer.
Gougères


Ingredients:
½ c (120 ml) water
½ c (120 ml) whole milk
½ c (113 g) unsalted butter, cut into ½-inch pieces
½ tsp (3 g) salt
1 c (125 g) all-purpose flour
5 (250 g) large eggs
6 oz (175 g) Gruyère, finely shredded and divided
¼ tsp freshly grated nutmeg
1. Preheat the oven to 375ºF (190ºC) with a rack set in the middle position. Line 2 cookie sheets with parchment paper. Set aside.
2
. In a medium saucepan over high heat, bring ½ cup (120 ml) water, milk, butter and salt to a rapid boil. Reduce the heat to medium-low. Add flour and, using a wooden spoon, stir vigorously until the dough comes together and is smooth. Stirring constantly, cook until a thin film develops in the bottom of the pan, about 1 minute. Remove the pan from the heat.
3. In the mixing bowl of the CPM800 fitted with the flat beater attachment, add the dough and beat on medium speed for 1 minute to cool. Reduce the speed to medium-low and add eggs one at a time, incorporating each before the next addition, about 4 minutes. Reserve ⅓ c (30 g) Gruyère for topping; add remaining Gruyère and nutmeg to dough. Pulse until blended.
4. Using a ¾-oz (#40) scoop, place the dough 2 inches (5 cm) apart on the prepared cookie sheets. Top with remaining Gruyère.
5. Bake one sheet of the gougères until dark golden brown, 25-30 minutes. Turn off the oven and leave the cookie sheet of gougères in the oven for 8 minutes to release the remaining moisture. (Do not open oven.) Remove the gougères and let cool for 10 minutes. repeat the baking and cooling for the second sheet of gougères. Yields 34.
Discover all Hamilton Beach Commercial's equipment solutions for bakeries.