Yes, the berries in this recipe are colorful - but the "rainbow" in the name refers to an interesting ingredient, rainbow sherbet. Some variations of rainbow sherbet contain ice cream, but depending on which kind you use, you can create a tangy, dairy-free smoothie using this recipe.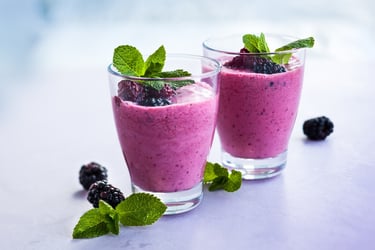 Give it a try and tweet us your pics at @HBC_Community!
Rainbow Berry Smoothie
Ingredients:
10 oz. apple/cranberry juice
4 oz. strawberries, frozen whole
2 oz. blackberries, frozen whole
2 scoops rainbow sherbet
½ banana
½ cup ice
Add the ingredients to a high performance blender in the order listed. Blend to desired consistency. Top with garnishes of your choice.
We are always on the lookout for great stories to tell. If you have a fun or interesting recipe or another idea to share, please submit it here. The best stories will be developed and published on our blog to be distributed to the international HBC Community, with your name attached. A little publicity can always help to grow your business and awareness.