Christopher Columbus is credited with discovering the pineapple and bringing it to Spain from the island of Guadeloupe in 1493. The fruit develops from many small fruits fused together and was carried on ships to prevent scurvy because it is rich in vitamin C.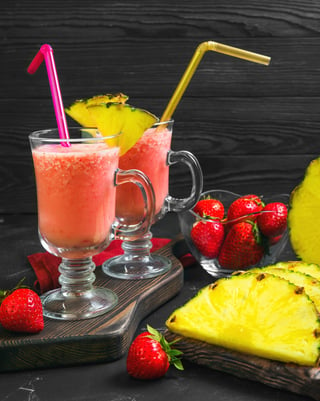 Here is a recipe that combines its signature tartness with orange, strawberry, and banana for a refreshing tropical drink.
Pacific Punch
(Recipe by The Florida Department of Citrus Foodservice Division)

Ingredients:
4 oz. freshly squeezed orange juice
½ banana
1½ oz. pineapple juice
1 oz. strawberries
¾ cup ice
Instructions:
After using your citrus juicer to get your fresh orange juice, add the ingredients to the jar of your high performance blender in the order listed. Remember: when blending frozen drinks, always put liquid ingredients in the jar first, then follow by adding solid ingredients such as fruit and ice. Blend to the desired consistency and enjoy your cool creation.
If you have a fun or interesting citrus juice drink, please submit it here. The best stories and recipes will be published on our blog and distributed to the HBC Community, nationally and potentially internationally. Further, we will reference your name and establishment for bringing it to our attention. A little publicity can always help to grow your business and awareness