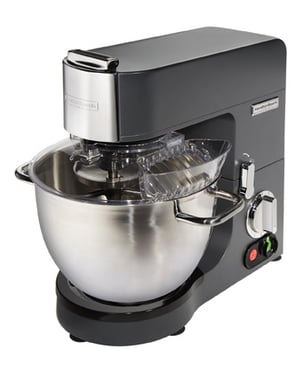 This snack was a big hit at NAFEM last week in Orlando - if you didn't make it to the show (or missed it while you were there), check out the recipe below.
Packed with plant-based protein, these bites are perfect for your customers when they need a quick energy boost on the go.
No-Bake Peanut Butter Energy Bites
(Recipe by Hamilton Beach Commercial)

Ingredients:
½ cup unsweetened coconut flakes
½ cup ground flaxseed meal
3 cups quick oats (we used 1 minute oats)
½ cup miniature semi-sweet chocolate morsels
Instructions:
2.
Add the remaining ingredients in the order listed and beat until well combined
.
3
.
Mixture should be thick and sticky.
4. Freeze for about 10 minutes or until chilled thoroughly.
6. Roll into balls and refrigerate.
Yields 48 1-2 oz. bites

If you have an interesting story about your offerings, some recipes you would like to share with the rest of the HBC community, or an intriguing customer service experience to share, we would love to hear from you. The best stories will reference your name and your establishment, and could garner you some national or even international publicity. Please share your stories here.