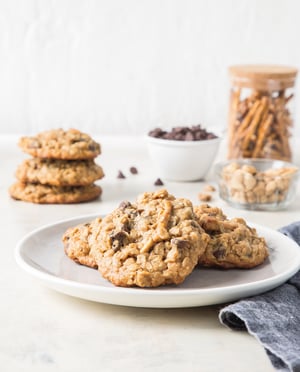 With this recipe, you get a little bit of everything. Mix together all of your favorite ingredients to create cookies that are sure to please any customer. Even better, it is easily adapted to any mix-ins you'd like to add.
Use your CPM800 stand mixer for best results.
Monster Peanut Butter Cookies


Ingredients:
1½ c (384 g) creamy peanut butter
1½ c (330 g) packed light brown sugar
½ c (100 g) granulated sugar
½ c (170 ml) honey
½ c (113 g) unsalted butter, softened
3 large (150 g) whole eggs
1 tsp (5 g) baking powder
1 tsp (4 ml) vanilla extract
4½ c (405 g) old-fashioned oats
1 c (52 g) broken pretzel sticks
1 c (128 g) golden raisins
1 c (170 g) semisweet chocolate chips
1 c (142 g) unsalted peanuts
1. Preheat the oven to 350°F (180°C) with a rack set in the middle position. Line 2 cookie sheets with parchment paper. Set aside.
2
. In the mixing bowl of the CPM800 stand mixer fitted with the flat beater attachment, beat peanut butter, sugars, honey and butter on medium speed until blended, about 1½ minutes. Scraping the bowl as needed, add eggs, baking powder, and vanilla extract; beat until smooth. Reduce the mixer speed to medium-low. Add oats and continue to beat until blended.
3. Using the pulse feature, add pretzel sticks, raisins, chocolate chips and peanuts. Continue to pulse until blended.
4. Using a ¼-cup measuring cup or commercial disher, drop the batter onto the prepared cookie sheets about 2 inches (5 cm) apart.
5. Bake each sheet until the cookies are golden brown, 15-17 minutes. The cookies will still be soft. Let cool for 10 minutes on the cookie sheet. Slide the parchment paper with the cookies to a wire rack to let cool completely. Yields 36 cookies.
Discover all Hamilton Beach Commercial's equipment solutions for bakeries.