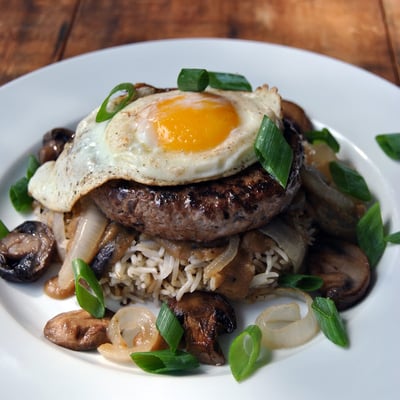 Developed in the late 1940s in Hilo, Hawaii, the Loco Moco has grown into a signature dish of contemporary Hawaiian cuisine. It features a hearty, gravy-covered patty sitting on a bed of rice and topped with an egg.
Here's one take on this classic dish.
Loco Moco Burger Plate
(Source)

Ingredients:
Burger
Gravy
1 tablespoon butter

½ sweet onion, sliced
1 ½ cup beef stock
¼ cup corn flour
Plating Elements

4 eggs - fried in butter to preferred doneness
1 cup cooked white rice
1 sprig green onion, sliced
Cooking Directions:
Run the meat and the diced half of the onion through the coarse plate of your
meat grinder
, then run half of the resulting ground meat through the fine plate. Mix the ground meat with Worcestershire sauce and jerky seasoning. Divide mixture into four portions and shape into patties. Refrigerate until ready to cook, then grill to preferred doneness just before serving.
To prepare the gravy, sauté the sliced onions and mushrooms in th
e
butter until the onions are translucent. Transfer the onions and mushrooms into a bowl and set aside. Reserve the juices in the pan. Add 1 cup of beef stock to the pan and bring to a boil. Dissolve the corn flour in the remaining ½ cup of beef stock to create a slurry. Once the beef stock is boiling, whisk in the corn flour slurry, add pepper, and whisk to desired consistency. Reduce to low and stir in the sautéed mushrooms and onions. Keep warm until ready to serve.
Assemble by starting with the rice on the bottom. Pour gravy over the bed of rice, then place a burger on top. Finish with a fried egg and sprinkle with green onions.
We are always on the lookout for great stories to tell. If you have a fun or interesting recipe or another idea to share, please submit it here. The best stories will be developed and published on our blog to be distributed to the international HBC Community, with your name attached. A little publicity can always help to grow your business and awareness.