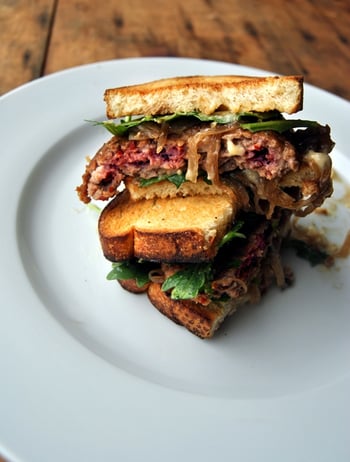 We are past the summer cookout season here in the US, but swapping out beef for hearty lamb in this approach to the classic burger will warm you right up on those cooler days.
Lamb BLT Burgers wtih Balsamic Glazed Onions
(Source)

Ingredients:
Burger Patties
1 lb. lamb, cubed
¼ cup sundried tomatoes
⅛ cup fresh basil
¼ lb bacon
2 teaspoons pepper
½ teaspoon salt
Balsamic Glazed Onions
1 white onion
1 tablespoon balsamic glaze
Roasted Garlic Aioli
1 head garlic
olive oil
⅛ cup mayo
Handful of arugula or other green of your choice
Your favorite bread for toast (we used sourdough for the photo)
Cooking Directions:
Roast Garlic
Begin by roasting the garlic. Roast in the oven at 400°F for 30-45 minutes, until the cloves are browned and soft.
Grind the Lamb
While the garlic roasts, grind together all ingredients for the burger patties through the coarse plate of your meat grinder.
Press Patties
Divide the ground lamb into four portions and shape into patties. Cover and refrigerate.
Slice Onions
Thinly slice the white onion into rings. Using a mandoline will make the process go quickly and ensure that the slices are consistently sized for even cooking.
Caramelize Onions
In a medium pan, toss together the onions and balsamic glaze. Over high heat, stir them constantly for three minutes, or until translucent. Remove from heat and set aside.
Prepare Aioli
Once the garlic has finished roasting in your oven, press the cloves out into a mixing bowl, being careful not to get the peels into the container. Pour in the mayonnaise and stir together until the garlic aioli is well blended. Refrigerate until ready to serve.
Grill Burgers
Remove the burger patties from the fridge and grill them to your preferred temperature: 120-130°F for rare, 130-140 for medium-rare (recommended), 140-150 for medium, and 150-165 for well done.

Toast Bread
While the burgers grill, toast your bread.

Serve
After grilling, plate the burgers on toast slathered with garlic aioli, then top with caramelized onions and arugula.
We are always on the lookout for great stories to tell. If you have a fun or interesting recipe or another idea to share, please submit it here. The best stories will be developed and published on our blog to be distributed to the international HBC Community, with your name attached. A little publicity can always help to grow your business and awareness.