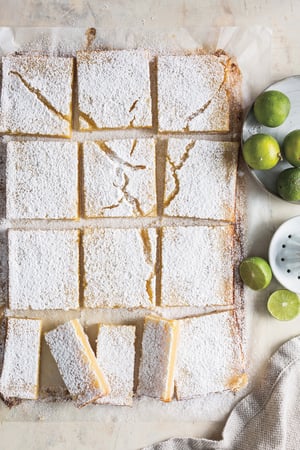 If you want a bite of paradise, serve this tropical dessert. They're the ideal summer treat with just the right balance of tart and sweet. If you don't have Key limes available, substitute equal parts lemon and lime juice.
Use your CPM800 stand mixer for best results.
Key Lime Bars


Ingredients:
Crust
¾ c (170 g) unsalted butter, softened
⅔ c
(133 g) granulated sugar
2 tsp (4 g) packed grated lime zest
¼ tsp (1 g) salt
2¾ c (344 g) all-purpose flour
Filling
6 (300 g) large eggs
1¾ c (350 g) granulated sugar
¾ c (180 ml) Key lime juice
1½ tsp (3 g) grated lime zest
⅓
c (42 g) all-purpose flour
½ tsp (2.5g) baking powder
Confectioners' sugar, for sprinkling on top of the finished dessert
1. Preheat the oven to 350°F (180°C) with a rack set in the middle position. Grease a 13-by-9 inch (33-by-23-cm) baking pan. Set aside.
2
. Make the crust: In the mixing bowl of the CPM800 stand mixer fitted with the flat beater attachment, beat butter, granulated sugar, lime zest, and salt on medium until blended, about 1 minute. Reduce the mixer speed to low, scraping down the bowl as needed. Gradually add flour until crumbs form, about 1 minute. Press the flour mixture firmly into the bottom of the prepared baking pan.
3. Bake the pie crust until the edges are golden brown, 18-20 minutes.
4. Make the filling: Clean and dry the mixing bowl for the stand mixer. To the clean bowl of the stand mixer, now fitted with the whisk attachment, beat eggs, granulated sugar, Key lime juice, and zest on low speed until just blended, about 2 minutes.
5. In a small bowl, whisk together flour and baking powder. Gradually beat this flour mixture into the egg mixture in the stand mixer bowl until smooth. Immediately pour the mixture over the hot crust.
6. Bake until the mixture is set, 20-22 minutes. (The filling may crack during baking or cooling.)
7. Let cool completely in the pan on a wire rack. Sprinkle with confectioners' sugar and cut into squares. Yields about 24 bars.
Discover all Hamilton Beach Commercial's equipment solutions for bakeries.