Popeye's addiction to spinach may be due to the fact that it is a rich source of iron as well as vitamins A and C. We've found another application -- a soup that is warming in the colder winter months we're heading into here in the Northern Hemisphere.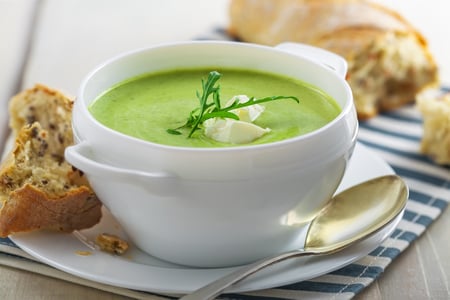 For this recipe, it's important to remember that fresh spinach is gritty and must be thoroughly rinsed. We've included an option for frozen spinach below if that is your preference.
Green Garden Soup
(Source:California Culinary Academy)
Ingredients:
½ pound white or red potato
1 green onion chopped
1½ cups homemade chicken stock
14 ozs fresh spinach trimmed, chopped
¾ tsp. fresh dill minced
½ cup half and half
Salt and freshly ground pepper to taste
Instructions:
Peel potato and cut into chunks. Put potato and onions in a medium saucepan with chicken broth. Cover and bring to a boil. Reduce heat and simmer 10 to 15 minutes, until potatoes are tender. Remove from heat; stir in spinach and dill. Transfer mixture to a high performance culinary blender and process on low speed until smooth. Return mixture to saucepan. Stir in half-and-half. Add more half-and-half, stock, or water if soup is too thick. Season to taste with salt and pepper.
If you are using frozen spinach, partially thaw it and then cut it into chunks. Add chunks to pan several minutes before potatoes are done, and cook until spinach is totally thawed and heated through.
Do you have a recipe you'd like to share? Send it our way, and we will publish it right here!