A great-tasting fresh salsa keeps customers coming back for more. With a high-performance commercial culinary blender, making fresh salsa is a snap—20 seconds or less of blending time. It's easy to experiment with smooth and chunky versions simply by adjusting the blending time and speed.
Fresh Garden Salsa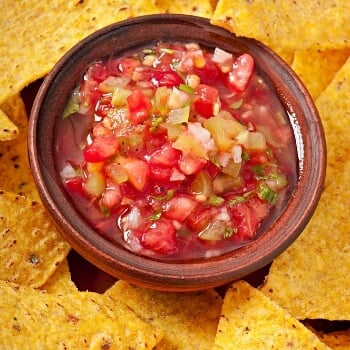 (Recipe by Hamilton Beach Commercial)

Ingredients:

4 small peppers (sweet or hot)
25 oz. can of whole stewed tomatoes
1 purple onion, peeled and quartered
1 orange bell pepper, quartered
Fresh garlic to taste
3 roma tomatoes, quartered
Juice of one lime
1/2 cup of fresh cilantro
5 basil leaves
Salt and pepper to taste

Instructions:

1. Place ingredients into your culinary blender in the order listed, pressing ingredients down to fit in the jar if necessary.
2. Put the speed knob on 1 and press the CHOP function.
3. Slowly increase the speed to 5 over 20 seconds.
4. Press STOP when desired consistency is reached.

We're always looking for new recipes, ideas, and stories from our friends and partners in the restaurant industry. If you have a recipe or story idea that you would like us to feature, please submit here.